Latest
Archive
APRIL NEWSLETTER 2018
Dear All

Writing this from the swampy lands of the Cotswolds. Hard to imagine we could become this wet at this time of year.

The gods were on the side of Cheltenham as it snowed either side of their big Festival meeting and wow what a meeting it was, if you were Irish or Nicky Henderson. There was fabulous racing and huge crowds. On Cheltenham Gold Cup day the crowd was 75,000 and as one of my owners put it they were just about 5000 short of our entire Army. Imagine taking on the world with that many?!

Seriously though the Cheltenham Gold Cup was for me the best 3 mile chase I have ever watched. Two brave horses Might Bite and Native River taking each other on for the whole duration of the race, jumping like stags, it was sad to see one being beaten. Native River won this years battle now we look forward to next years.

Our Cheltenham was indifferent although The Last Samuri ran an absolute blinder to finish 3rd in the cross country race. A race that sets him up for future cross country races in France next year? Who knows, but they are lucrative races.

I am lucky to train such a brave and versatile horse who next week takes on the Aintree Randox Health Grand National fences. Yes this will be The Last Samuri's third attempt to try and win the biggest race in the world.

March was an interesting month but quiet enough on the runners front. Weather - don't we just love moaning about it.

Have a great month and see you in May and a new season.
MARCH REVIEW
Sea Story is small, wiry but very tough and that was put to good use yesterday when she had a tenacious battle with Indian Opera all up the straight at muddy Catterick to win the mares bumper.

It was a second win for Sea Story and delighted owner/breeders John and Sue Kottler and daughter Emma Buchanan. They also have a very good looking full brother to come here next season.

It was a long way to go, but winning bumpers is good for the pedigree and it also gave young Mikey Hamill a chance to redeem himself after Sea Story deposited him on the turf when she jinked at a path across the racecourse after 3 furlongs on her first start at Ludlow.

Michael Stroud must have been looking after me during his funeral service as the versatile mare Sainte Ladylime won the two horse novice chase at Wetherby during the service.. I found out when my phone went ping with a message from Jamie Snowden saying well done.

Everybody loves a grey? We too love our greys; we ran two on the same day, and both won.

Kilfilum Cross simply bolted up at Chepstow in the 3 mile novice hurdle and 5 minutes later Silver Kayf won a hard fought battle at Ludlow in the 2 mile 5 novice hurdle. Two progressive grey hurdlers with chasing futures.

KC won well having jumped off in front, he was always going to win from there as the main opposition had to give us a stone in weight and that was never going to happen in that tacky ground.

It was a welcome and good winner for his owner Gary Tardi.. Gary owns and runs the break down services at Membury Service station on the M4.

The reason for David Crosse riding.. Gary knows him and he likes helping people he knows.. David rode him well..

At Ludlow The Lucky Spinners who own Silver Kayf have been patiently waiting for better ground.

The original plan was to run at Sandown in the EBF final two weeks ago, but a combination of heavy ground and the handicapper raising his mark by several pounds without leaving his box stuffed that idea..

Anyway they were rewarded with a tough fought out win.

Well a good day for them and they were also well looked after by the Ludlow team after the race
I do hope you have enjoyed catching up on our news; don't forget we would love to have you involved in the yard if you are not already; we are just a phone call away.

All the best

AINTREE GRAND NATIONAL MEETING
12-14TH APRIL 2018
In February 1839, Lottery became the first winner of the Grand Liverpool Steeplechase, the race that would become known as the Grand National. Horses had to jump a stone wall, cross a stretch of ploughed land and finish over two hurdles.

Mr Edward William Topham, a respected handicapper, was responsible for turning the Grand National into a handicap in 1843 after it had been a weight-for-age race for the first four years. The Topham family owned substantial tracts of land around Aintree and in 1949 they bought the course outright from Lord Sefton, from whom the land had previously been leased since the racecourse's opening in 1829.

Throughout the year many dreams were shuttered and legends created. It was over 40 years ago now that Red Rum recorded the first of the three victories in the Grand National that earned him pride of place in the record books forever. He still remains the only horse to have won the Grand National three times and, as that statistic suggests, the great horse was a phenomenon.

The current course, which stages races over conventional fences and hurdles, opened in 1839. A difficult period for Aintree in the post-war years led to a sale to a property developer and concerns about the future of the Grand National. Bookmaker Ladbrokes stepped in to manage the Grand National until 1984, when Seagram Distillers became sponsors.

They provided the solid foundation on which Aintree's revival was built. Today Aintree is owned and managed by Jockey Club Racecourses, one of 14 operated by The Jockey Club subsidiary.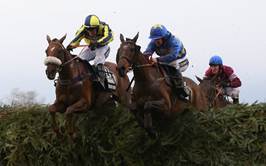 The Last Samuri is our hope in The Grand National again this year.

The 2014 Grand National boasted a seven-figure prize fund for the first time, which was replicated in the past three years.

The Grand National is completely unscripted and totally captivating, steeped in a history of unpredictable winners and fabulous stories. The next chapter is ready to be written.