Welcome to Kim Bailey Racing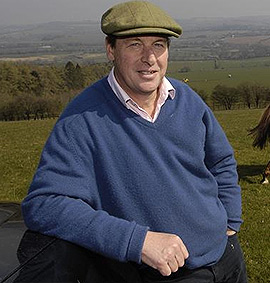 Jump racing will appeal to anyone that has a love of horses and a spirit of adventure; and the most satisfying way to take part in the action is to follow the fortunes of your very own racehorse.

Here at Thorndale Farm, in our stunning Cotswolds surroundings, you and your horse will benefit from excellent training facilities as well as a friendly and dedicated team.

Please explore our site and see what we have to offer.


Kim Bailey
Testimonials
Would I recommend having a horse with Kim? Would I 'eck?
The facts, since having my first horse with Kim. 34 runs,12 winners,5 places,32 hangovers,32 fab days out and 1 liver transplant. Racing is an entertainment business and what an entertainer Kim is, raconteur, charmer, a gentlemen and a genuinely nice man...Oh! and I nearly forgot, a bloody good trainer. The only advice I would like to give is never ever have a drink with him at Royal Ascot unless you want another horse!....and finally what a brilliant website.
- Clive Washbourn, London (Owner of Gold Man, Sunblazer and Un Ace)
In twenty years of ownership Kim has always displayed absolute honesty and integrity in our dealings. If a horse was a waste of time he has told me. He is a great communicator. Whilst he is incredibly competitive and hates being beaten, particularly into 2nd he recognises that the experience of ownership is meant to be fun and enjoyable and he has achieved both for me, winning and having a lot of fun. I hope there will be many more years of the same.
- John Perris, Oxon (Owner of Molly's A Diva, Knocklayde Express, Azure Aware and By the Boardwalk)
Bailey's Blog
04-July-2015
04-July-2015 6:23
in General
by Admin
Plus 17, and incredibly muggy when driving in. The heavy thunderstorms missed us although we did have about 3mm of rain and a bit of noise; we were expecting worse. Peter Kerr who runs all m...
Read More...
Newsletters
27-May-2015
27-May-2015 10:40
in General
by Admin
Dear All,I can hardly believe we are already into an new season. No sooner than one finished and we said good bye to AP McCoy than we are off again. No rest for the wicked? Our last season finished ...
Job Vacancies
We are looking for new members of staff to join a hardworking and friendly team from July. Must be competent riders and have plenty of experience with horses. Accommodation available.
If you would like further information about working here, please do call on 01242 890241 or email us your CV to info@kimbaileyracing.com