Welcome to Kim Bailey Racing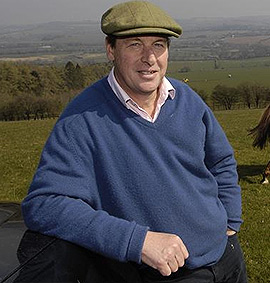 Jump racing will appeal to anyone that has a love of horses and a spirit of adventure; and the most satisfying way to take part in the action is to follow the fortunes of your very own racehorse.

Here at Thorndale Farm, in our stunning Cotswolds surroundings, you and your horse will benefit from brand new training facilities as well as a friendly and dedicated team.

Please explore our site and see what we have to offer.


Kim Bailey
Testimonials
In twenty years of ownership Kim has always displayed absolute honesty and integrity in our dealings. If a horse was a waste of time he has told me. He is a great communicator. Whilst he is incredibly competitive and hates being beaten, particularly into 2nd he recognises that the experience of ownership is meant to be fun and enjoyable and he has achieved both for me, winning and having a lot of fun. I hope there will be many more years of the same.
- John Perris, Oxon (Owner of Molly's A Diva, Azure Aware and By the Boardwalk)
Having been involved in other stables before, none match the friendliness, professionalism and excellent communications provided by Kim and the team at Thorndale Farm.

Irrespective of being a single owner, or a member of a partnership or syndicate we are all treated equally thereby ensuring that everyone connected with horses in the yard experiences the same involvement, excitement and thrill of National Hunt Racing at a cost to meet your own specific budget. My involvement in Thorndale has not only provided me with lots of precious racing memories, but has also given me the opportunity to make lasting and valued friendships with likeminded people, and would therefore recommend anyone considering getting involved in "jumps racing" to give Kim a ring and share the "Thorndale Experience" for yourself.
- Vince Burmingham, Shrops (Currently involved in:- Savant Bleu, Silver Eagle and Milord)
Bailey's Blog
08-March-2014
08-March-2014 6:16
in General
by Admin
Plus 5 and drizzling when driving in. A Scottish mist morning? Jason Maguire was in for a couple of lots this morning. We worked A Shade Of Bay, Able Deputy, Almadan, Bishophill Jack, Charin...
Read More...
Newsletters
18-February-2014
18-February-2014 11:20
in General
by Admin
Dear All, Another month is passing and now all National Hunt racing fans eyes are firmly focused on the Cheltenham Festival which is starts in under 3 weeks time. For some who read my newsletters mig...
Job Vacancies
We are looking for new members of staff to join a hardworking and friendly team from July. Must be competent riders and have plenty of experience with horses. Accommodation available.
If you would like further information about working here, please do call on 01242 890241 or email us your CV to info@kimbaileyracing.com