Where are they now?
Voyburg
Voyburg is enjoying some down time after finishing his racing career in April 2023. He loves hacking out over Salisbury Plain and checking the cows. He takes everything in his stride and hasn't been phased by tractors, combines and even the occasional tank or convoy! He is such as sweet, honest horse that enjoys being the centre of attention. We can't wait to see what next season brings! Thank you!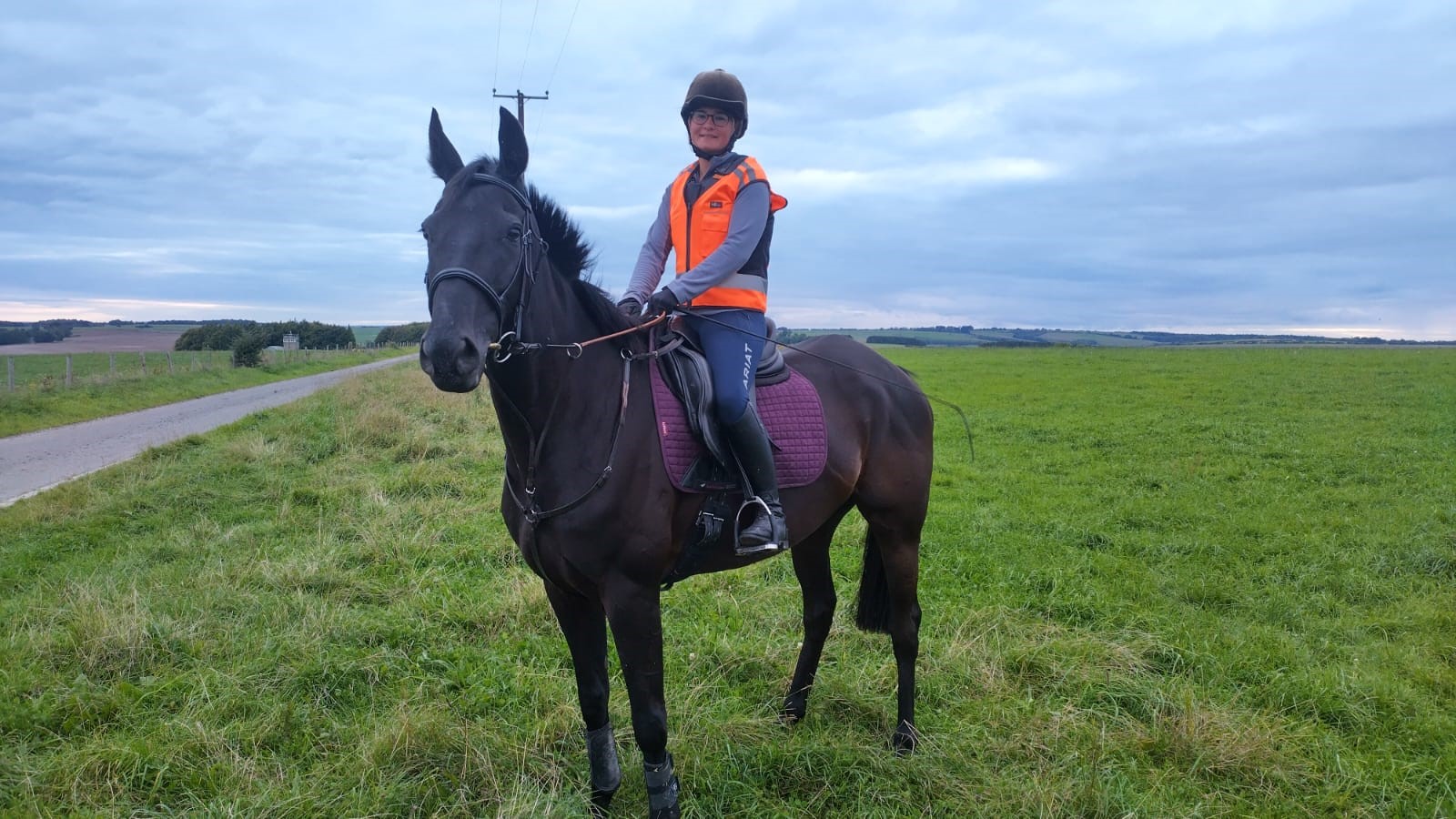 Vinndication
Vinny is enjoying his retirement lazing in the sunshine! We hack around the roads regularly with my two daughters and their ponies and have many 3 hour rides over Leckhampton hill. He does get overtaken by the ponies during our canters these days though! I keep telling the kids he's a stayer not a sprinter when they tease me! He loves a day out hunting and jumps everything. Both my daughters, Phoebe 13 and Lola 11 ride him. He is so relaxed and gentle. Phoebe rides and jumps him in the ménage and also canters around the field. He's quite keen when they start off still and he goes from walk to canter. He loves doing things and definitely loves attention and lots of apples, carrots and strong mints. He is very much loved and enjoyed by all. Thank you!!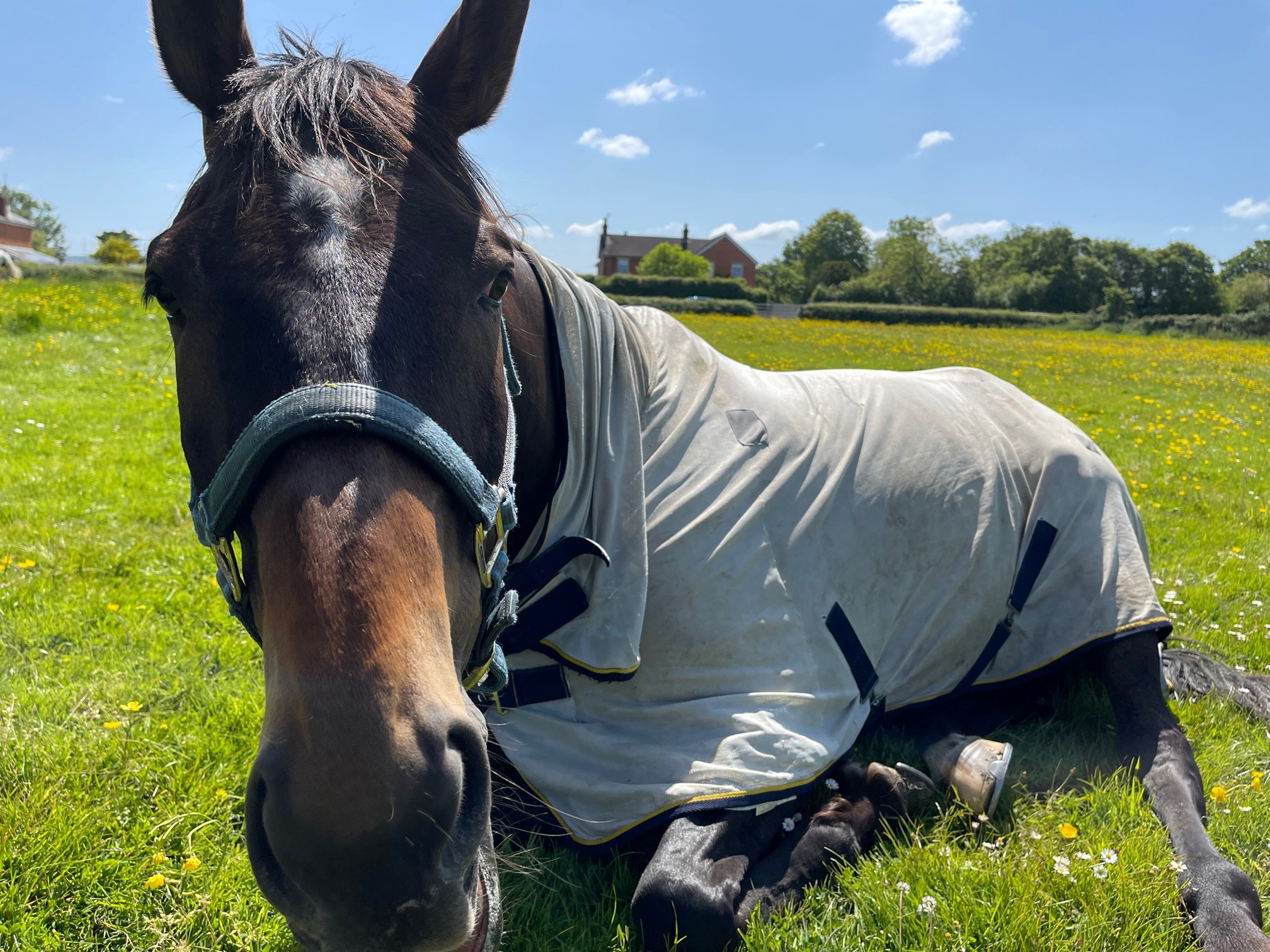 Younevercall
After and fantastic career in racing John Boy (Younevercall), has settled happily into his forever home, where he is completely in love with his stable mate, Pete, another ex-racer, that he totally dominates in the field but wouldn't be without. John Boy was given plenty of down time when he first arrived at his new home and then his retraining began. Firstly, he enjoyed some fun hacks around the open countryside, where he was amazing with everything he came across, from tractors to buses, to rubbish bins on a Wednesday.
He even did his first ever dressage test a couple of weeks ago and came 3rd! John has also done lots of fun rides, taking his new owner over jumps that are bigger than she has ever done before, with confidence and has also loved the xc training. They plan on doing some showjumping too, so lots of fun ahead for this lovely partnership.
Ali and JB are really enjoying the progress they are making together but most of all the bond they have formed between them.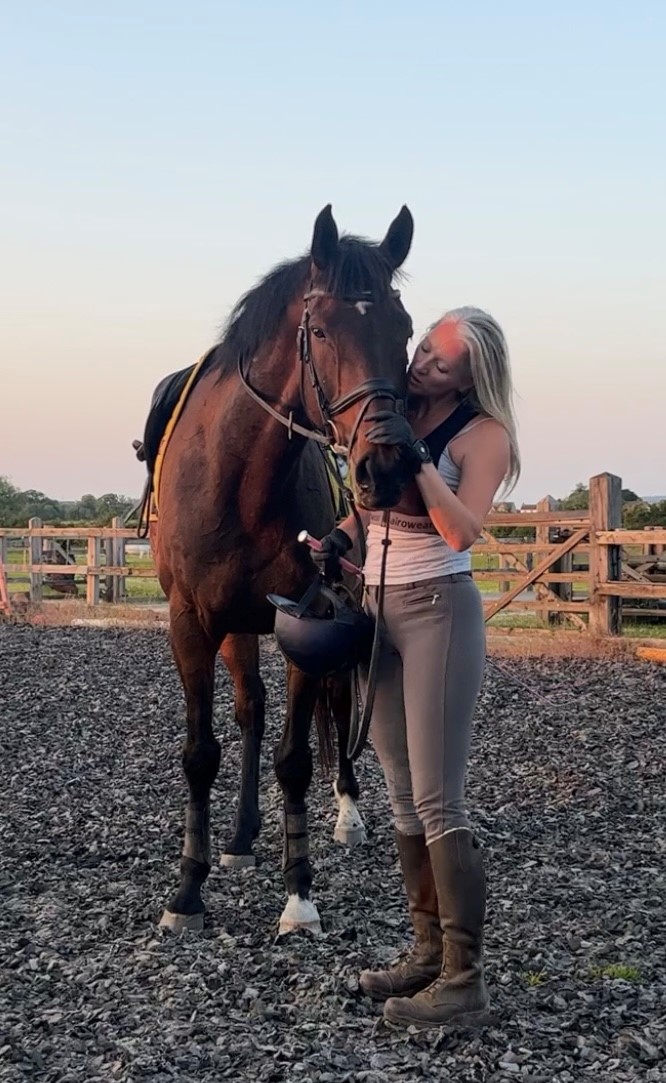 Bandon Roc
From National Hunt Racing to a step dad to two donkeys. A year ago the question was would Bandon Roc settle with donkey friends in his new home and the answer is yes. If he had the chance he'd have them come out hacking with him, as the three of them are inseperable. He has had an easy year just hacking out, but wants for nothing and sure he thinks he is on a permanent holiday. The hope is to do some jumping but he is definitely in no rush, he even lets flo the dog pinch carrots from his feed bowl.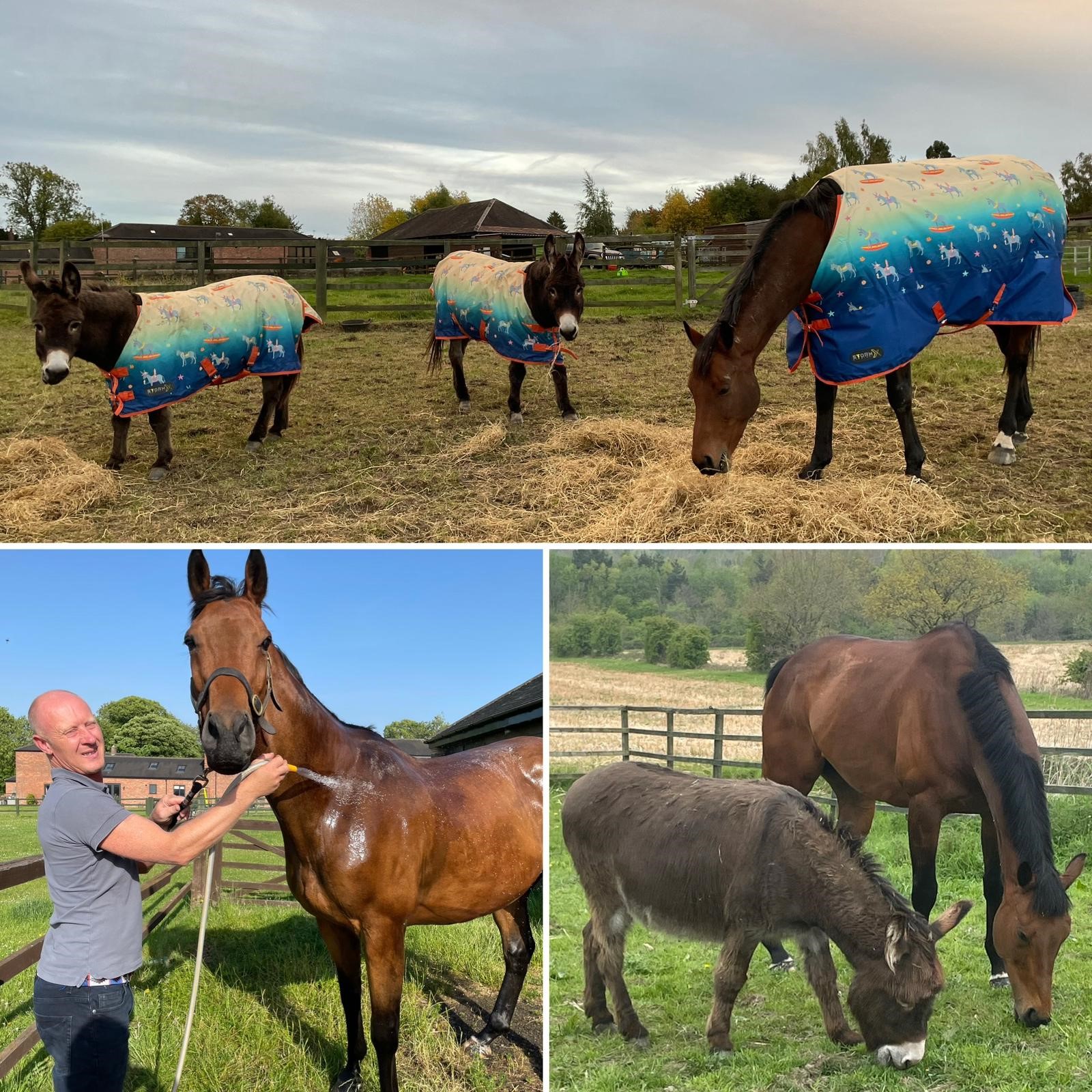 He's No Trouble
He's No Trouble was one of the first horses purchased for The Jockey Club Racing Syndicate, winning one hurdle and two chases before moving to Fergal O'Brien's where he had one run before being retired due to injury. Now rehomed with Samantha Wallin he is excelling in his new career showing in ROR where he has won a Novice Series and show Championship which sets him up to compete in the ROR Final at Aintree Racecourse.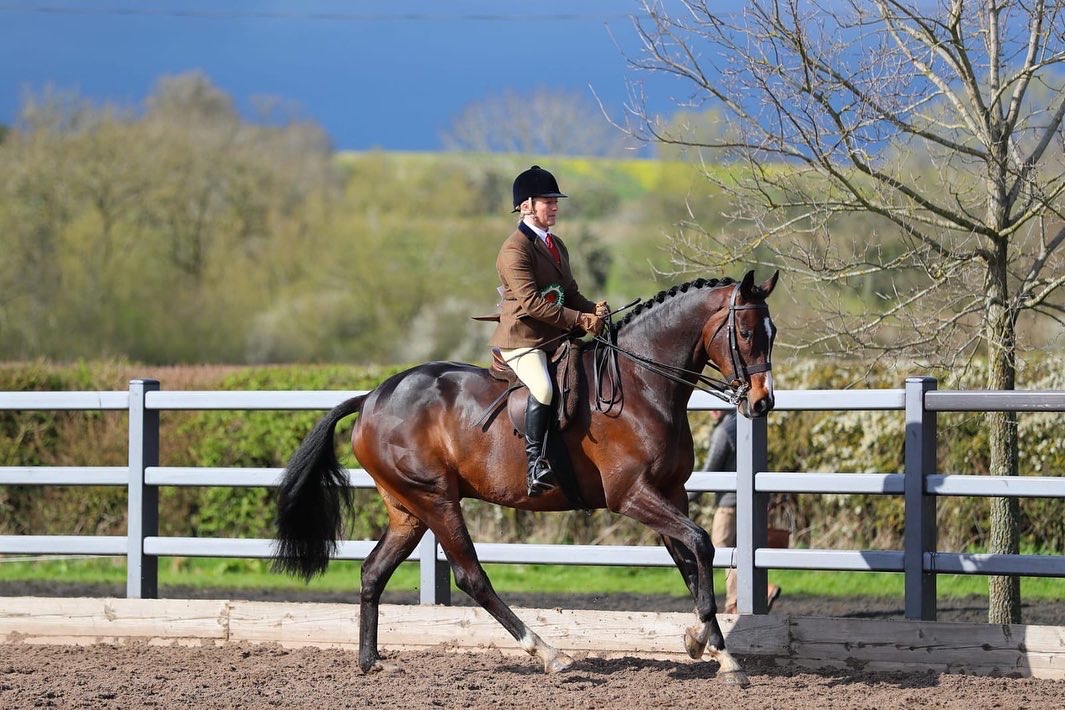 Cinderbella
Cinderbella has really taken to showjumping and hacking and loves jumping logs over cannock chase. Over the winter she will be trying out arena eventing which I'm sure she will love.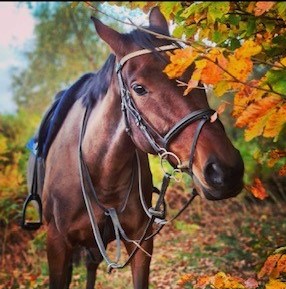 Midnight Haze
Midnight Haze went on to win seven point to points and then stopped racing in 2016. Since then we have shown successfully up to National Level in ROR, Veteran and Hunter classes. He's still an absolute stable star, rules the roost but a gentleman to have around. More recently enjoying hacking, riding club and low key showjumping. We love him so much. He would still gallop away with me if given the chance though!!!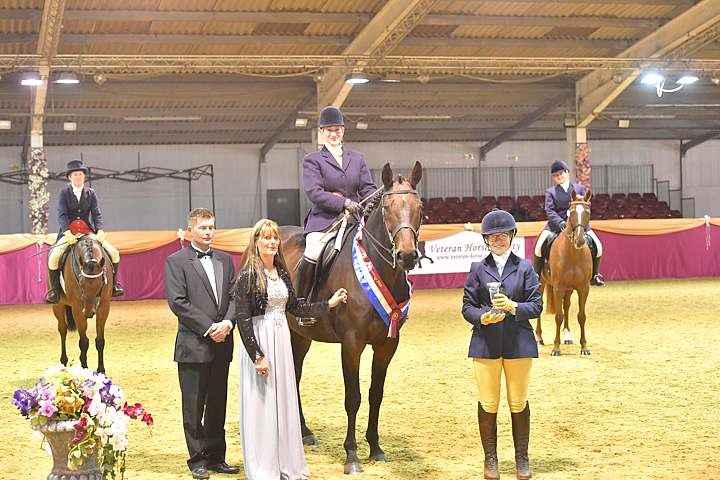 Charbel
For those who remember CHARBEL he is now living happily ever after with Dawn Ball at Cropredy near Banbury. After a quite tricky start with his strong minded behaviour he has actually adapted really well into realising that being the lead horse for the young racehorses that Dawn trains is just as much fun than being in full time training.
He has become best friends with another Golden Oldie that Dawn owns called Wogan and between them they educate the younger horses at all levels of training from just hacking around the farm to learning how to go in straight lines up the gallops and eventually schooling over tyres, hurdles and fences.
Future plans for him are that he will most likely go and try teamchasing as he just loves galloping and jumping, it really is his happy place.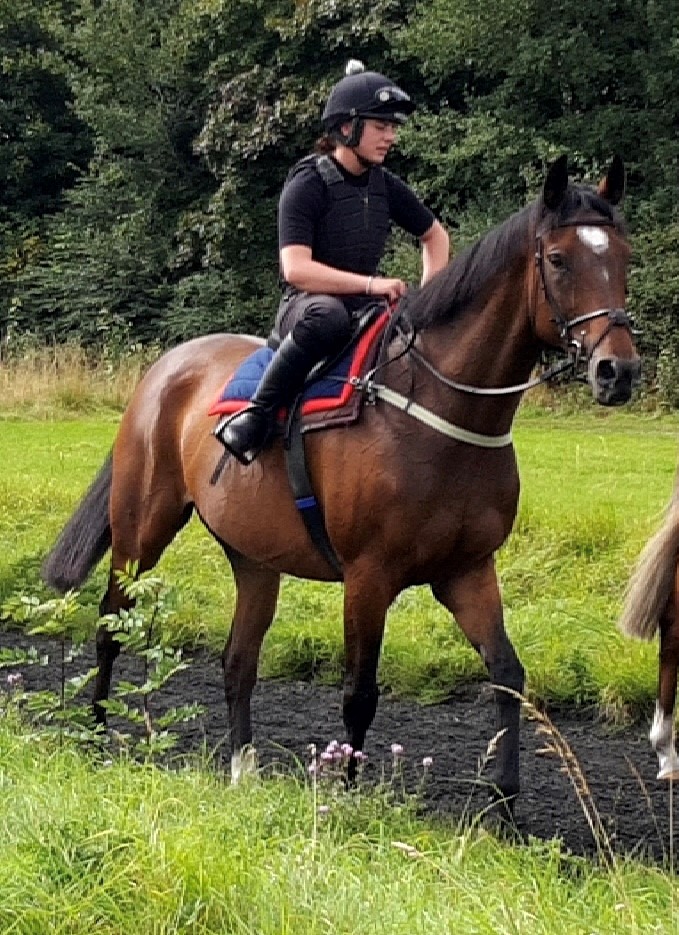 Silver Kayf
After Kayf arrived with us in 2020 he had a little holiday before we started his retraining. We then spent the rest of the year building him up through using the water treadmill, hacking and schooling. He did his first dressage competition and did brilliantly coming 2nd.
We took him out show jumping to a few different venues where he proved to be brave and absolutely loving his job. 2021 he has had a quiet year due to myself being pregnant. However this had allowed him the time to fill out into his frame. He has still been doing a great variety of work including, dressage, show jumping, hacking and we had his first go at some XC jumps earlier in the year. Next year I'm hoping to get him out to some competitions, and as many training venues as I can, aiming to run in a few one day events and hopefully some ROR classes.
He's a super horse with loads of ability and a hilarious temperament. He has transitioned from race horse to riding horse like a duck to water, and is a great addition to the yard. I can't wait to get out and about with him next year.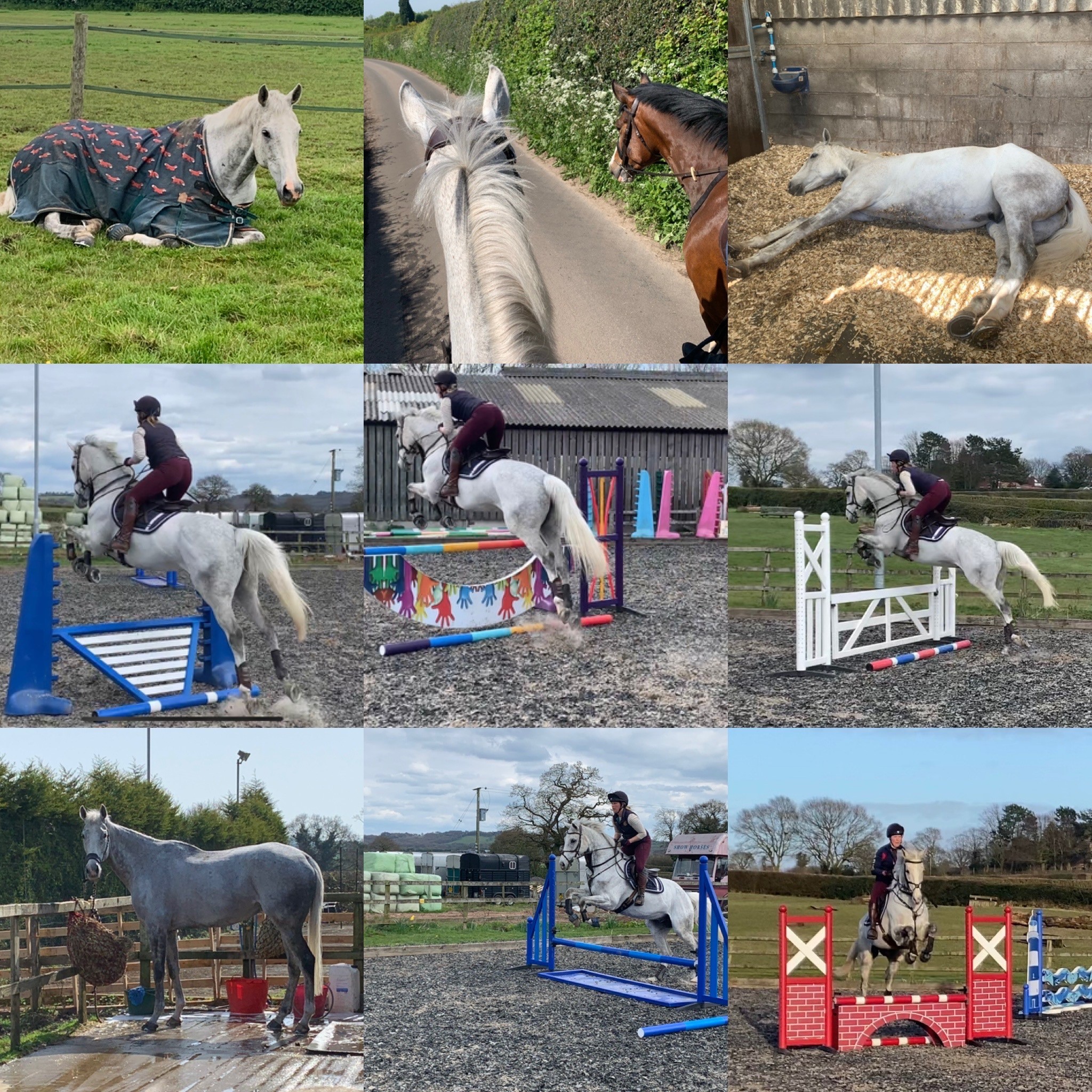 Grand March
Grand March (Archie to his friends!) originally retired to staffordshire but is now back in gloucestershire. He is progressing well in his retraining and has been on fun rides and is showing a real flare for cross country and small show jumps. He is the most funny character and a grumpy old man in equal proportions. He adores children and has a little hacking buddy. Hopefully next year we can progress further.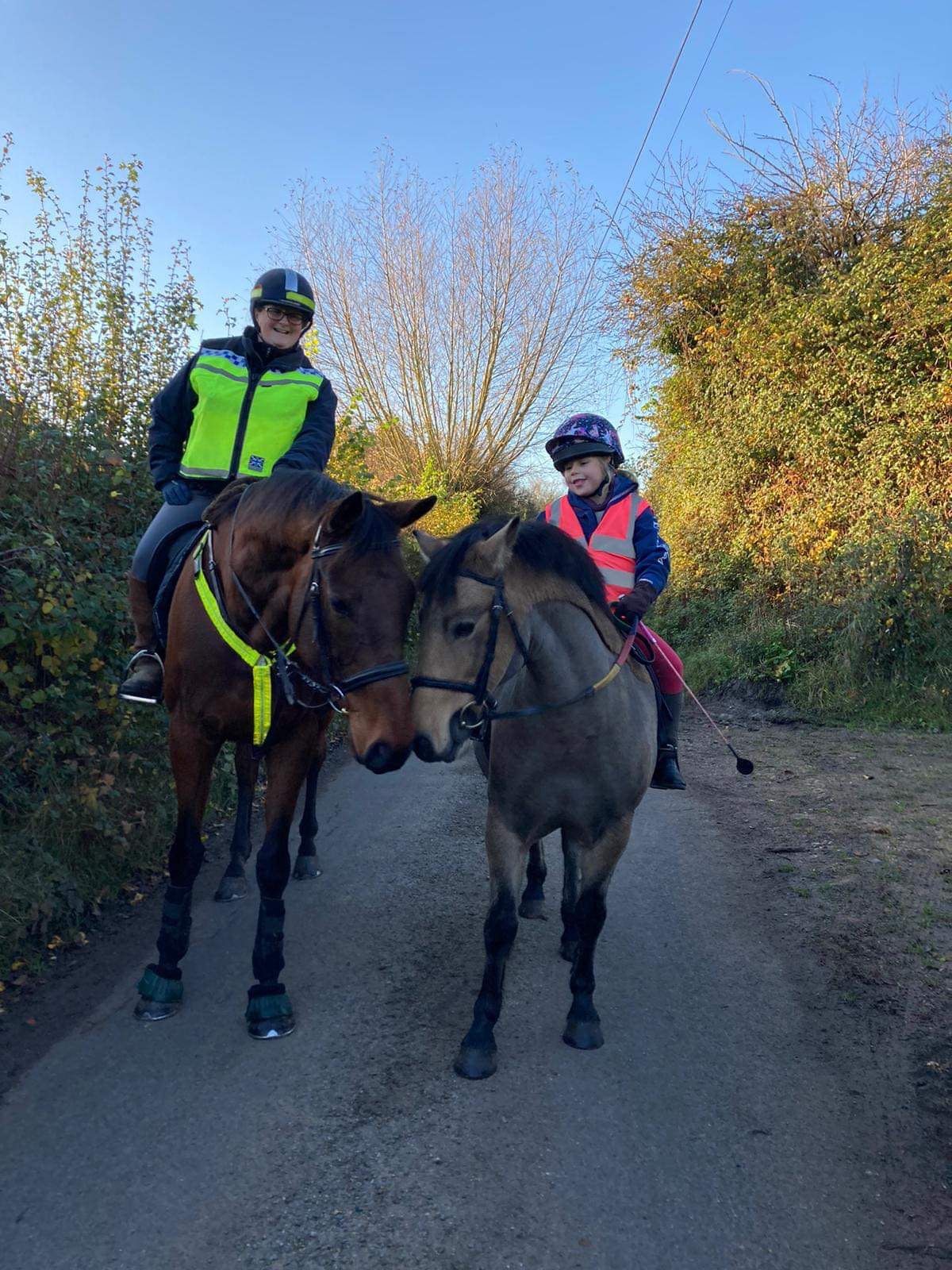 Royal Supremo
Royal Supremo was a yard favourite, arriving in the yard in 2016 and retiring in 2019, running a total of 14 races where he won three and was placed six times. He found a great home with Robert Jefferies in Worcester where he partakes in unaffiliated jumping and has started dressage but he really enjoyes hacking around the lovely grounds of Witley Court.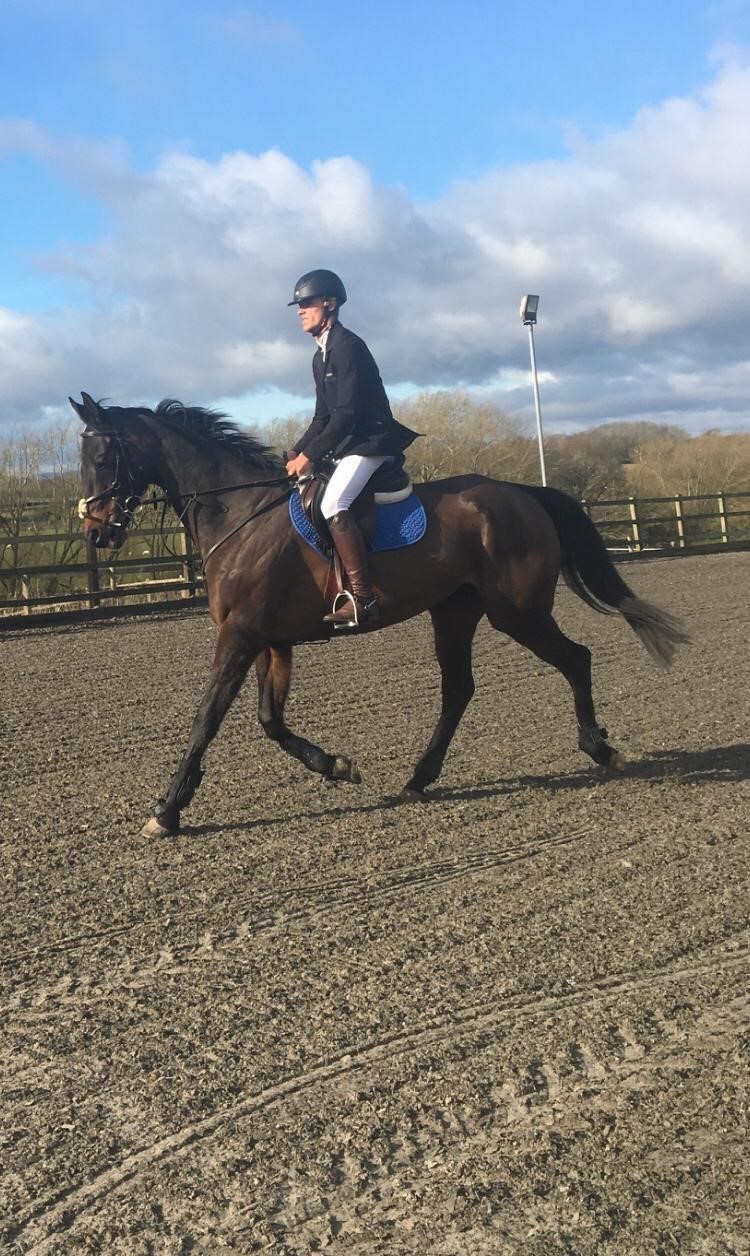 Ben Arthur
Deanna Potts has been having fun retraining Ben Arthur and figurng out what he likes. "Having tried horse ball, he really enjoyed it and even scored a goal, but he ended up finding this all to exciting so we are now concentratting more on the jumping and we have moved to a new yard where there are shows onsite so we are looking forward to taking part in those in the future."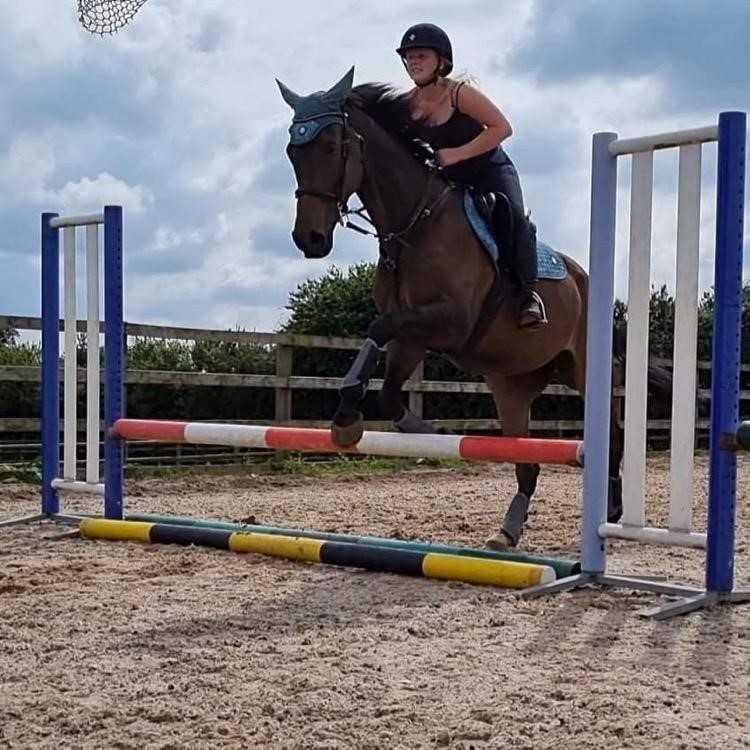 Adjourned
Now nick named "Ebony" after the lass who looked after him in the yard. Adjourned is now enjoying the quiet life with Ali Chapman who gave us this update " Ebony has been amazing, we had a good blast across the countryside and it felt amazing to be out but most importantly he took great care of me, like he knew i was still a little weak from being ill. Such a superstar, I couldn't love him more"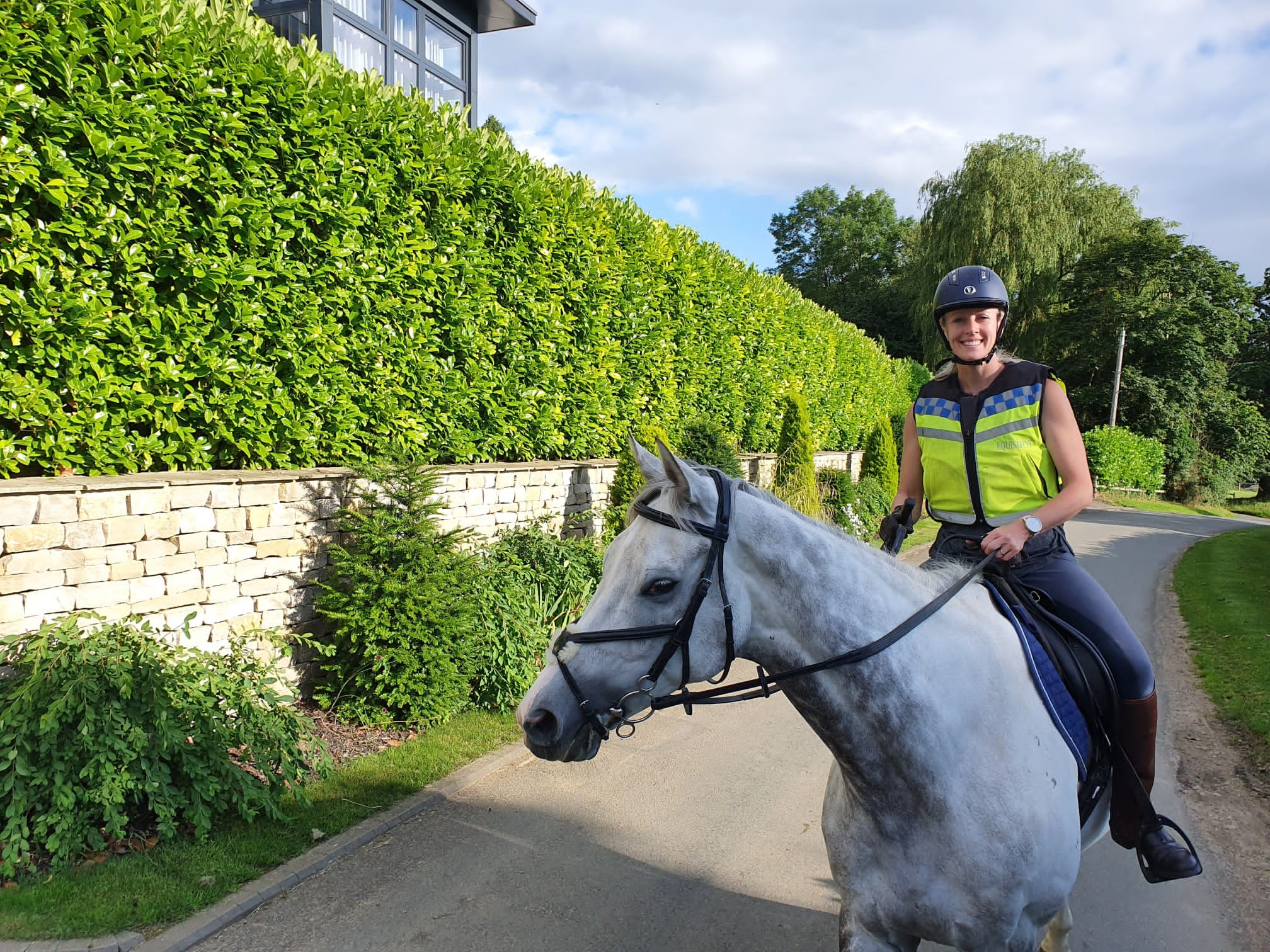 Station Master
A great partnership has been formed with recently retired Station Master who has excelled in his new career with Char Edgar. Seen here finishing third in a hunt race, he is a regular participant in hunt races and seems to be loving life tackling those big hedges.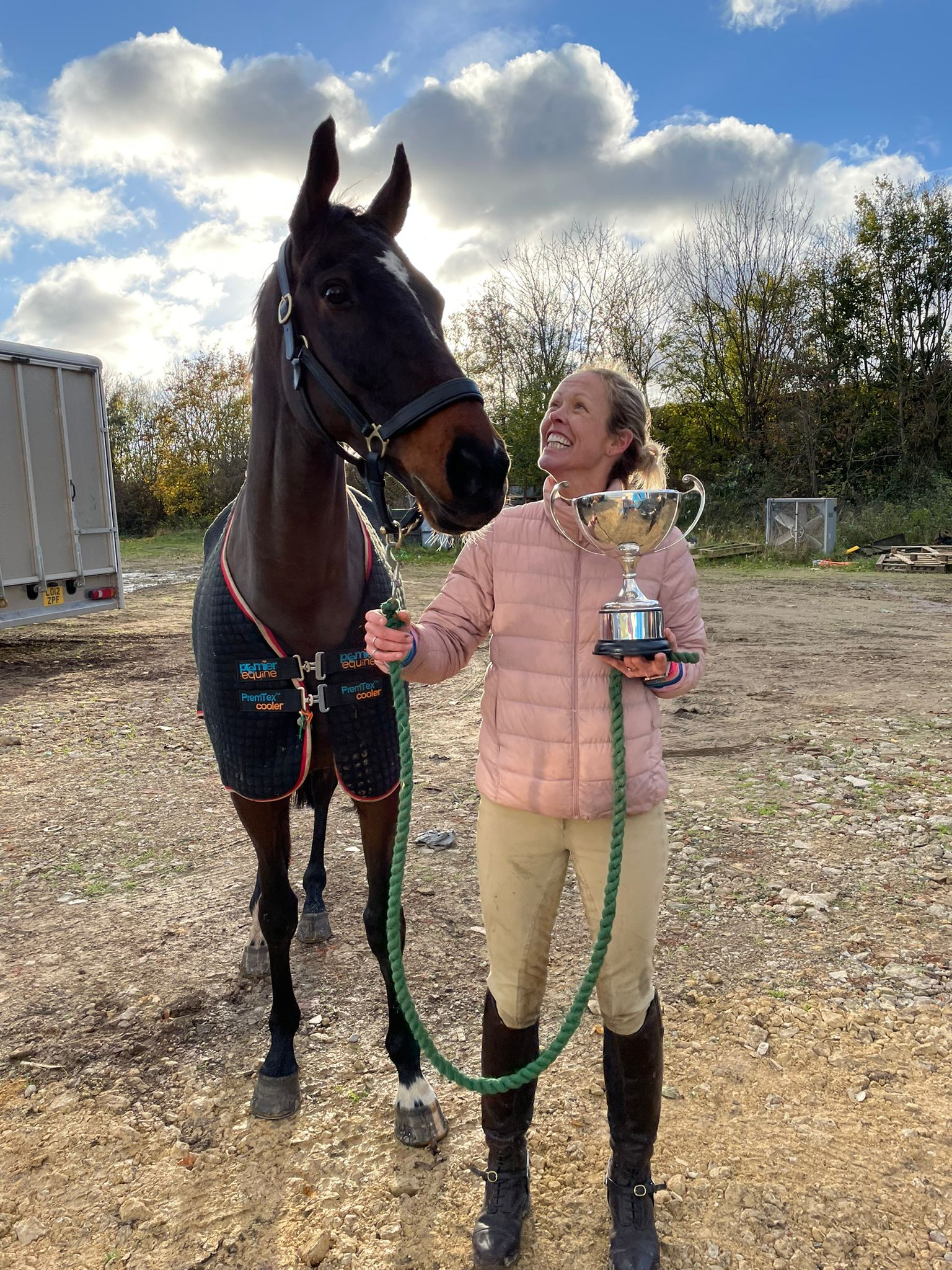 Pond Road
Pond Road was rehomed to Zoe Lunn after retiring from racing in March 2020. "Pond Road (Arlo) is doing great. He's such a darling and I'm absolutly in love with him. I've enjoyed working with him and watching him change skills, he has been my showing off horse"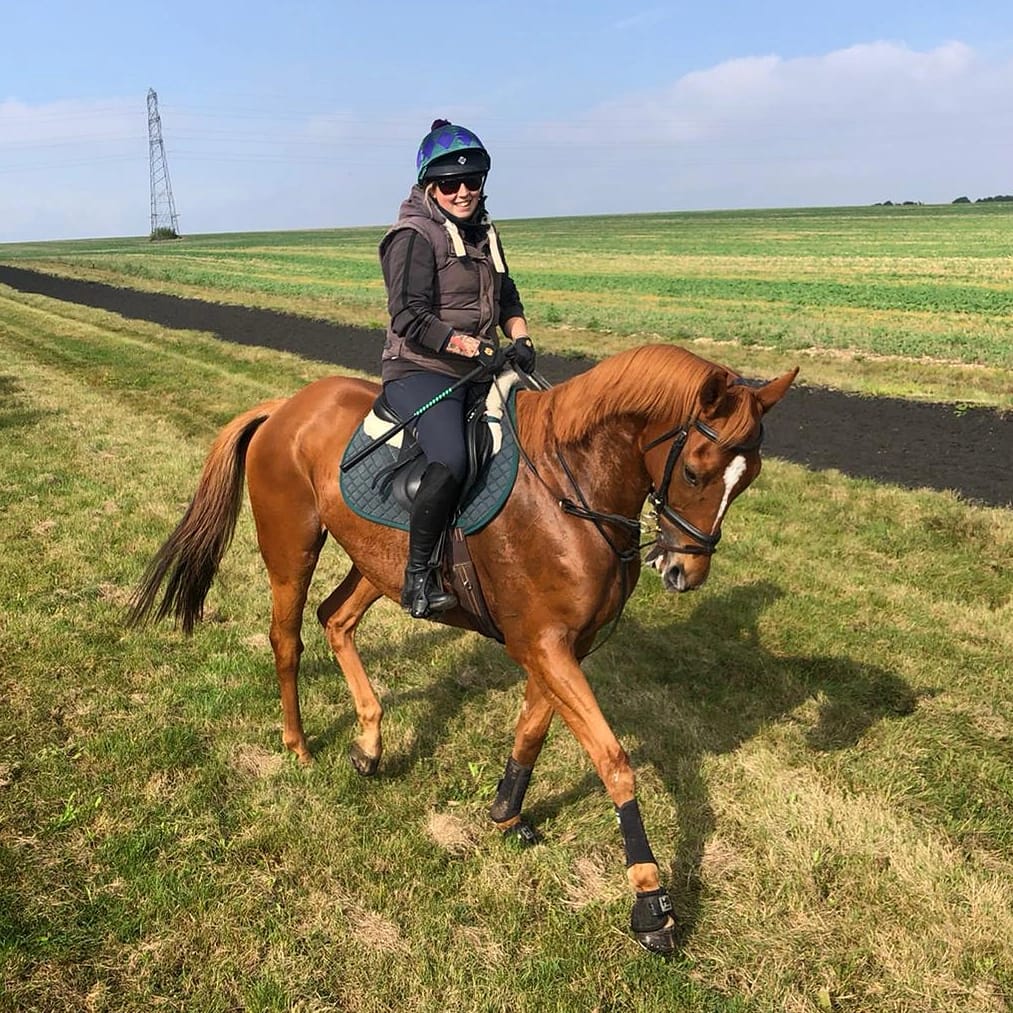 Prince Llywelyn
After running his last race in April 2021 Prince found a lovely home with John Thame and his wife, who seems to have stolen him. "He has done about 18 months autumn hunting with at various different packs, He was a star! He's had a few holidays since then and has got so much stronger. He is super happy and loving his slightly quieter life.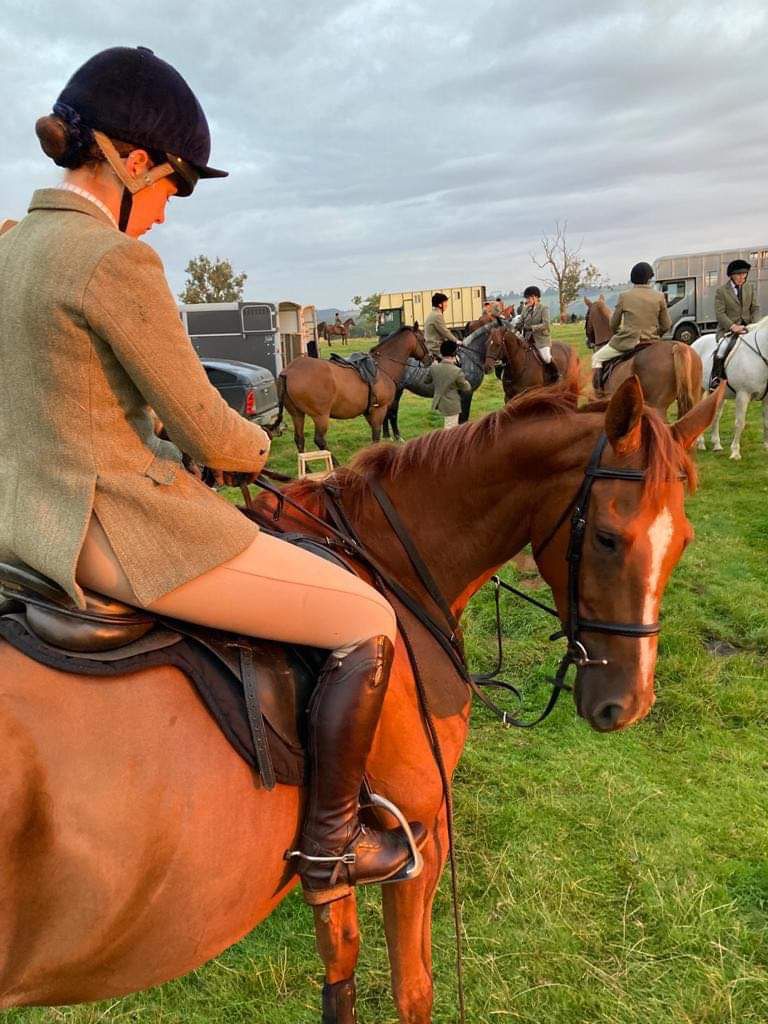 Donnie Brasco
Starting his racing career by winning a point to point, Donnie Brasco ran nine times whilst in training with us for his syndicate owners. After finishing placed on numerous occasions but not quite managing to get his head back in front, it was decided that he would return to point-to-point and rehomed to the lass who looked after him throughout, Milly Shaw.
"Donnie has turned into such a funny character to be around and he is loved by everyone on the yard. He has been doing amazing and is ready for the point to point season. Donnie enjoyes going out in the field everyday for a play and he also loves swimming. He is a dream to have and very much loved".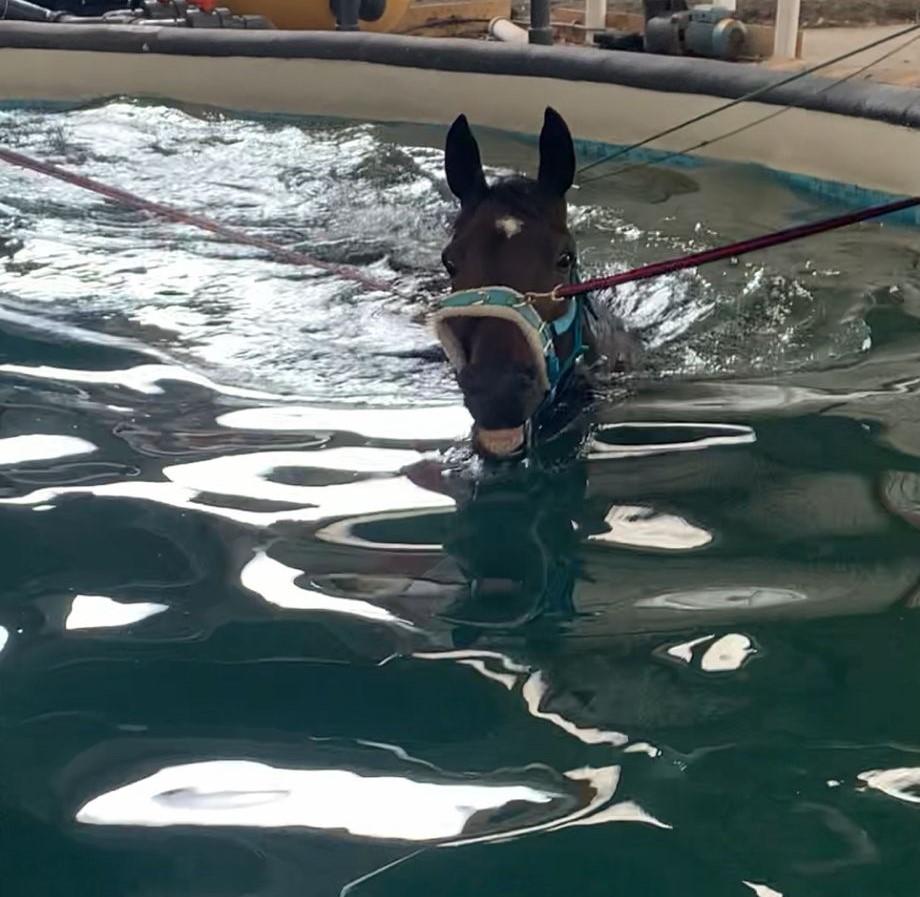 Yesandno
Yesandno was only in training with us for a short while before time was called on his racing career. He has found a lovely home with Di George.
He is now a member of Stoneleigh Riding Club so will be competing in all disciplines. He will be doing lots of xc competitions. Going to Beach in September. Having a fabulous time with him. Hopefully he will go bloodhounding in winter months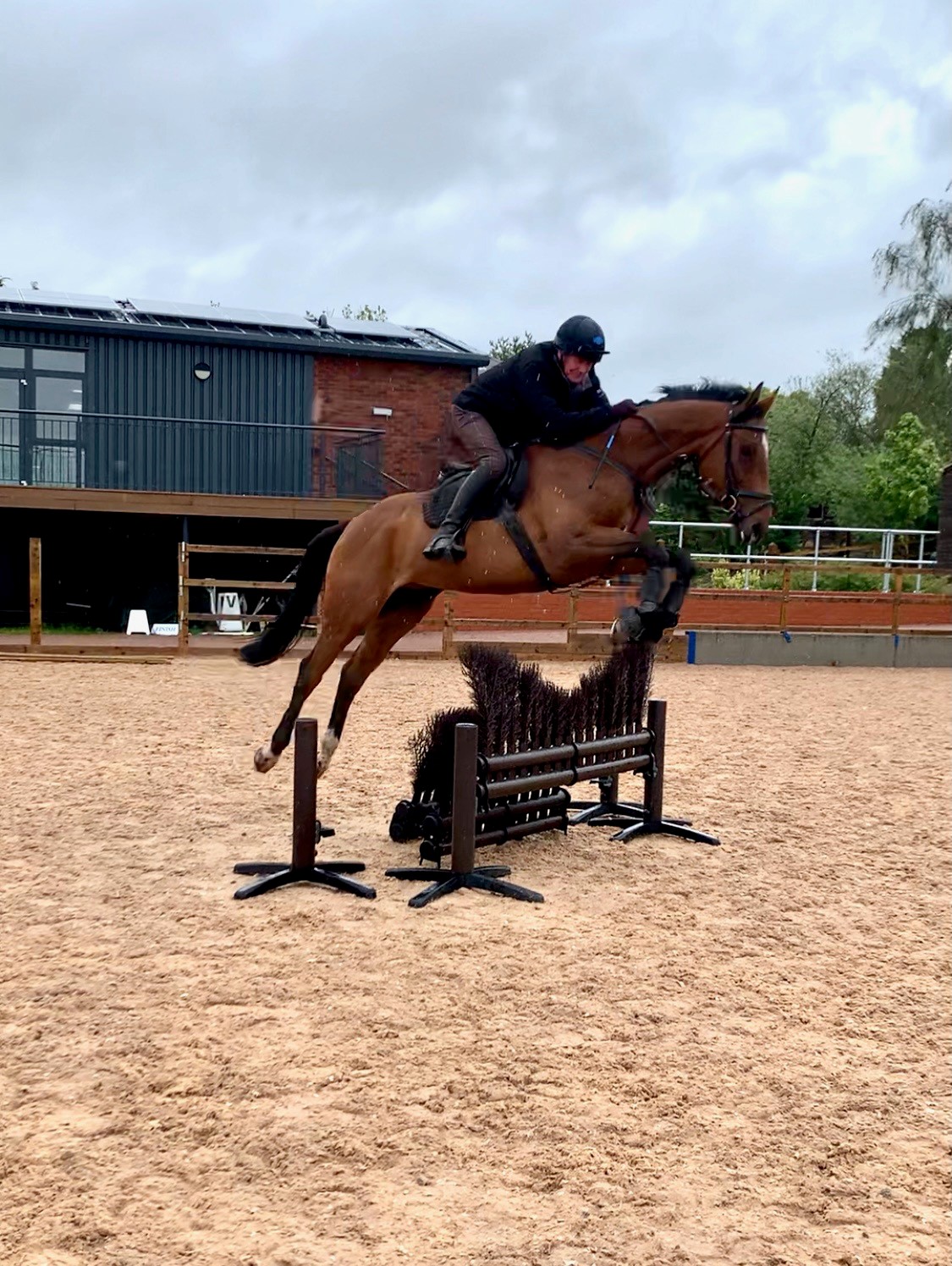 Minella Warrior
After a successfull five year racing career which included races at The Cheltenham Festival Minella Warrior was retired in March and swiftly rehomed to Kelly New "Minella Warrior has been enjoying a holiday over the last 5 weeks with me and he is thoroughly enjoying himself. He loves being extremely nosey and has to be the first to know what is going on at all times! He has made lots of friends already and is proving to be an extremely lovable guy! Can't wait to get started with the retraining and hopefully follow some hounds this winter!"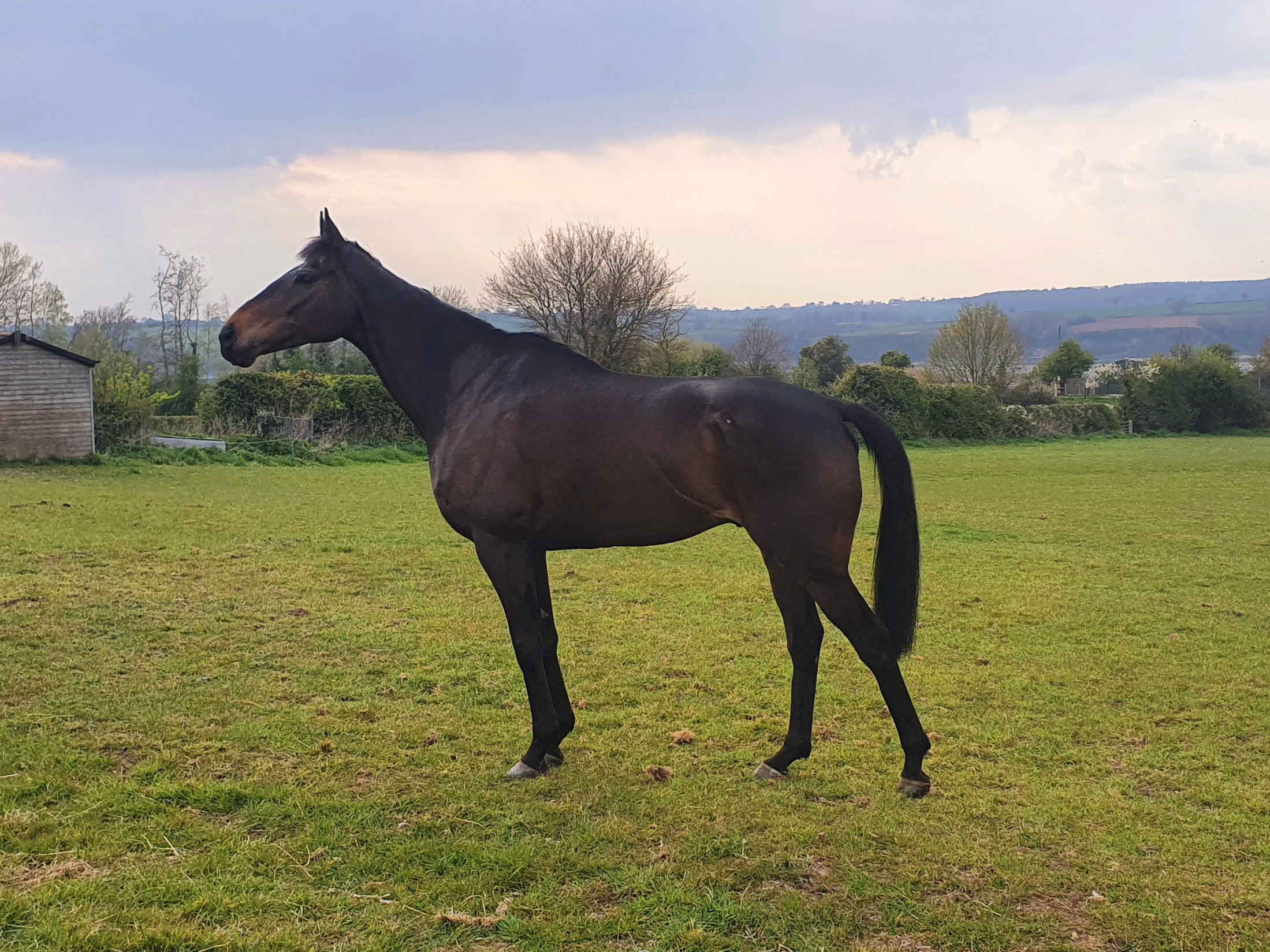 Red River
Red River was retired from racing after having a very unlucky career, showing plenty of ability but a few falls took their toll and it was decided to retire him from the track.
Luckily a loving home awaited him with Kim Bowness, who says "After a summers break Red River has been regularly hunting and field mastered for the first the other day, he has taken to this like a duck to water, he loves the hounds and we are very lucky"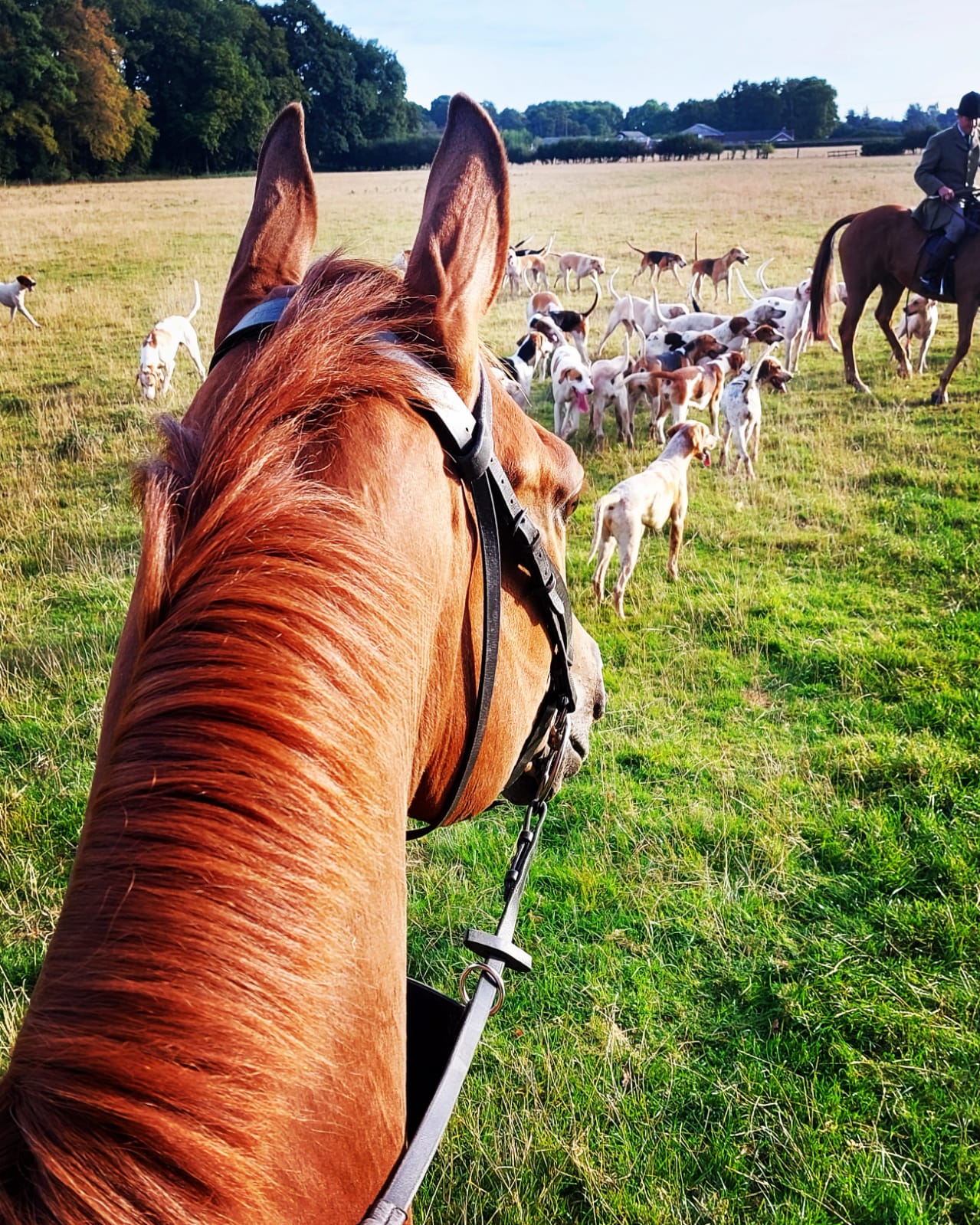 Miss Gemstone
Miss Gemstone who was homebred by her owners Sandra & Martyn Steer Fowler was adored by her lass Stevie Broadhouse but after being in training for three seasons, working her way from Bumpers to Chases it was decided a new career was in order.
Lianne Fras is now the new keeper of Miss Gemstone in Kettering and is looking forward to beginning her retraining. "Miss Gemstone is doing amazing, we have been having lots of lessons to improve our flat work and jumping . We have got our first ode on the 20th June which I'm really looking forward to be doing, all my instructors love her and said she's a top horse".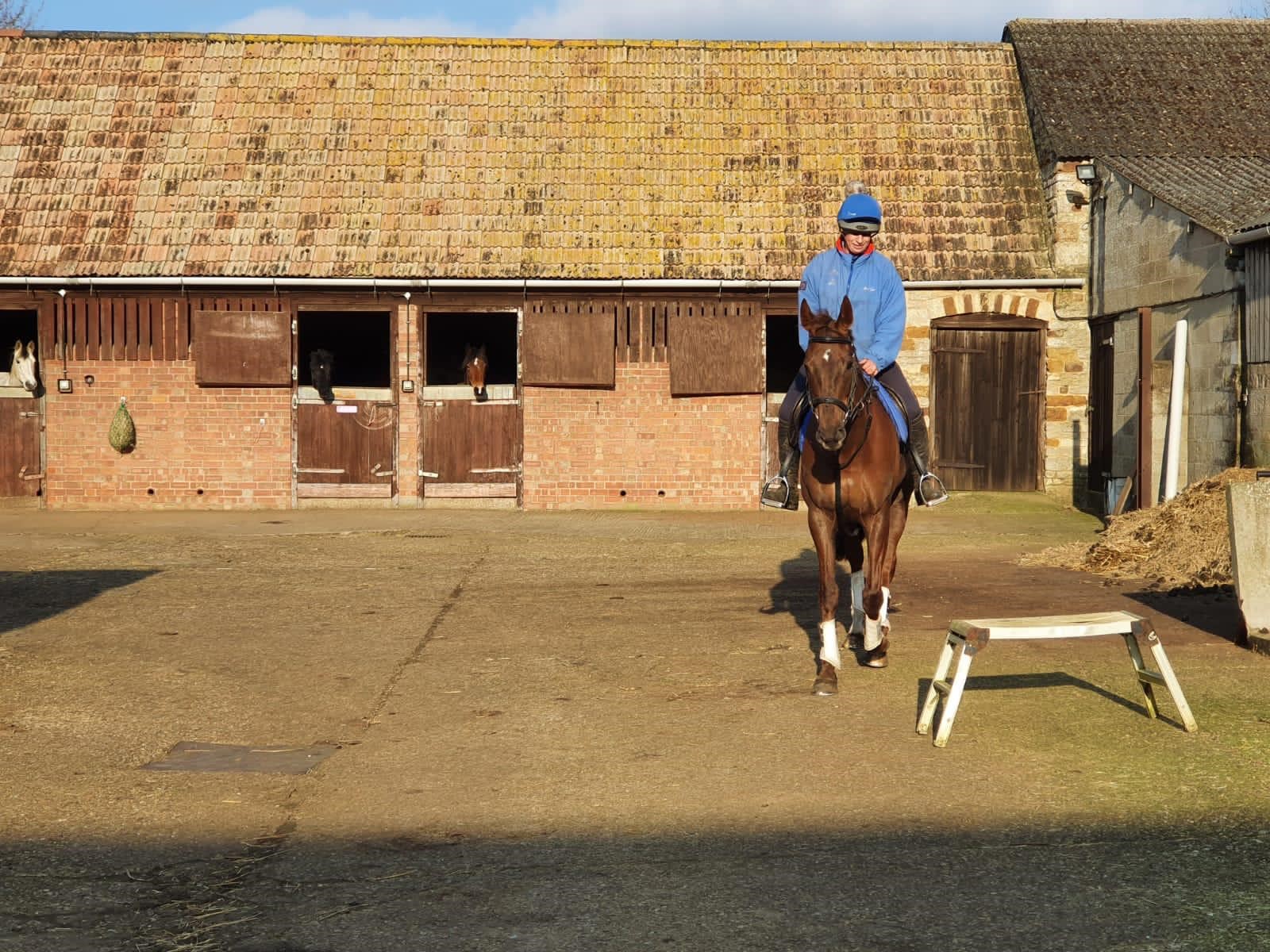 Sunblazer
Norman Carter bought Sunny at the July Newmarket Sales in 2015 for £8000.00 with the plan to try and race at Royal Ascot, York, Chester, Goodwood, Newmarket and have some fun days out with him; he ran at all those meetings and although he only won at Newmarket he ran some really good races at all those meetings.
Sunny loved the all weather and when the turf season finished Sunny hit the all-weather and that was a huge success. He won 7 races for us on the all-weather, ran in a career total of 69 races of which he won 10 (including one hurdle win) and was placed second 8 and third 10 with a career total earnings of £86,453.
Sunny is now enjoying his well deserved retirement with Robert Jefferies where he partakes in hacking and low level showjumping as you can see he is rather good at it.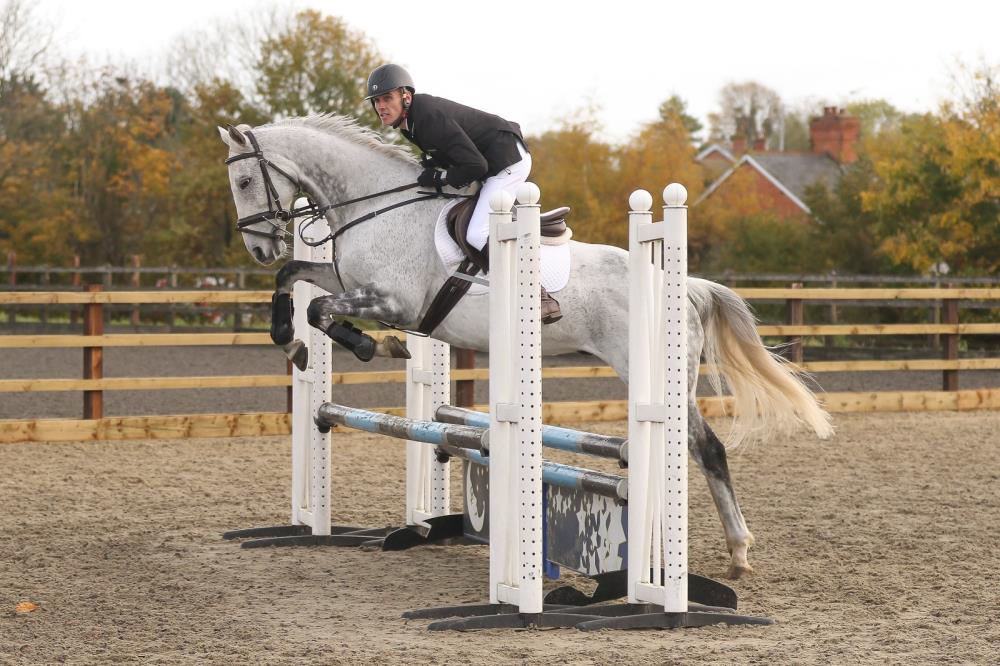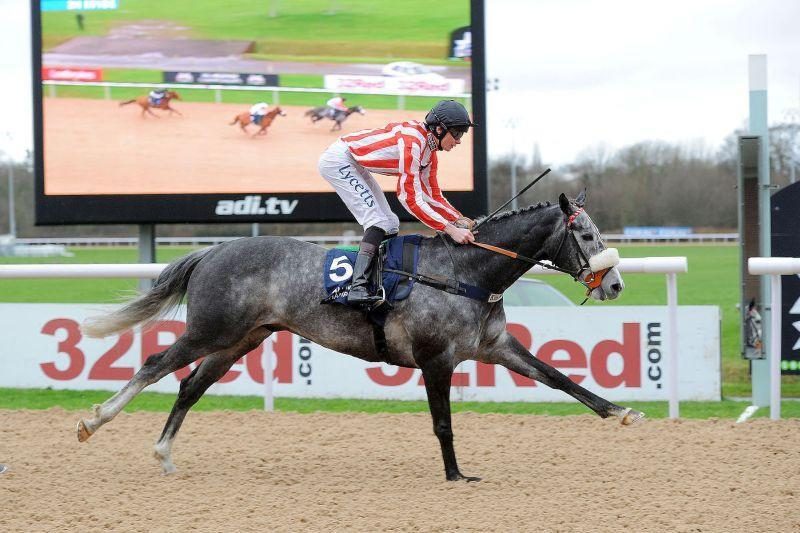 Abbreviate
Georgia Self rehomed Abbreviate 18 months ago. Georgia treasures Abbreviate and has given him the most loving home possible.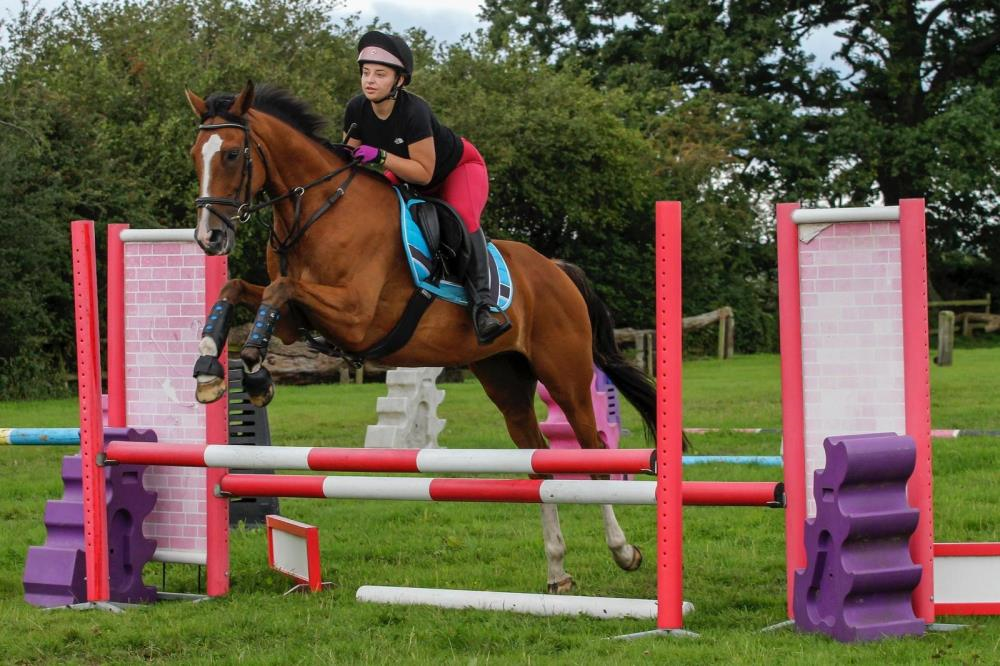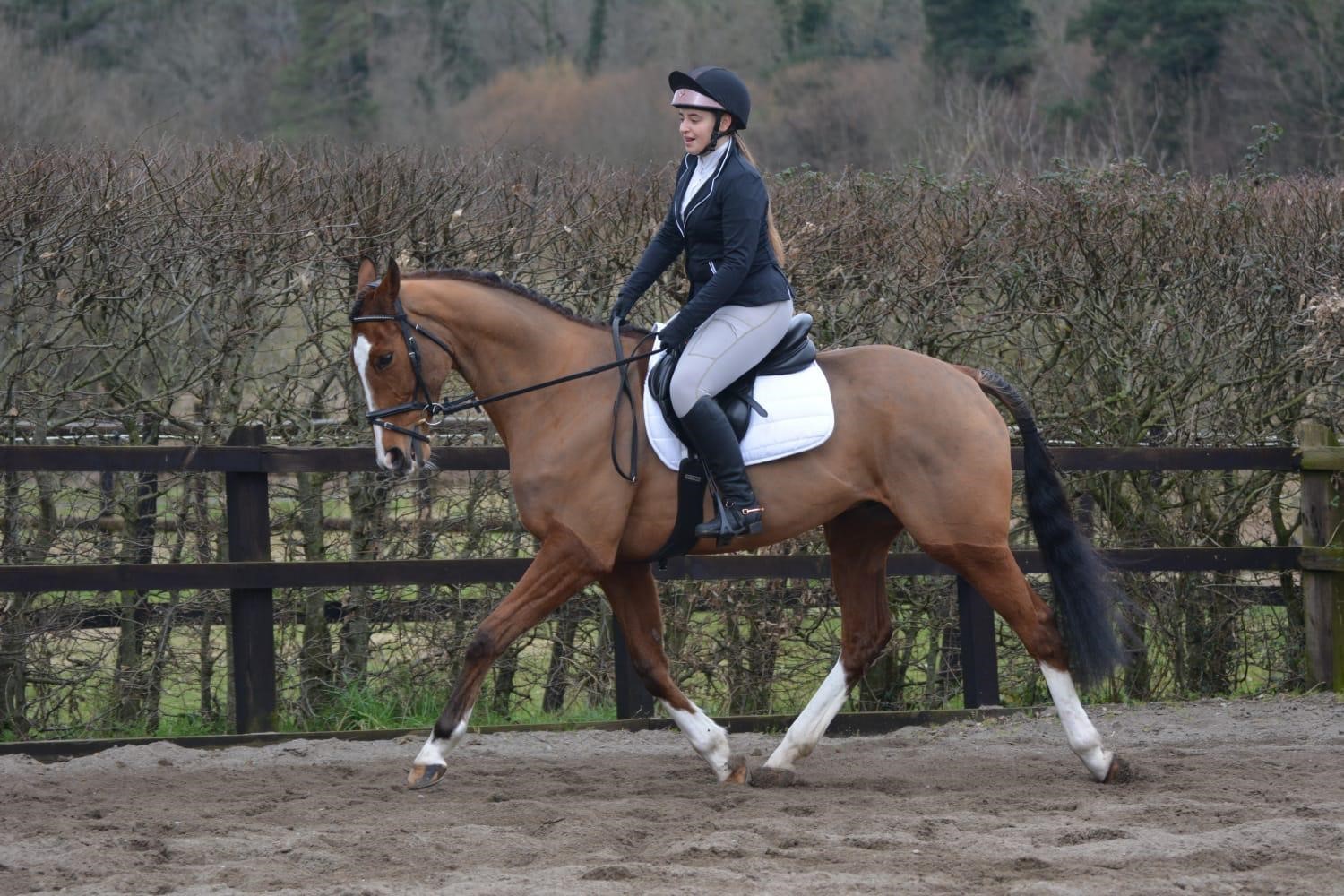 Mr Macho
Mr Macho was retired from racing in December 2018 and was rehomed to Sarah Kidd in Worcestershire. Aftr a well earned rest, he has slowly started coming back into work and is enjoying being hacked out. Sarah is very much in love with this lovely horse and is very excited about the future she has with him.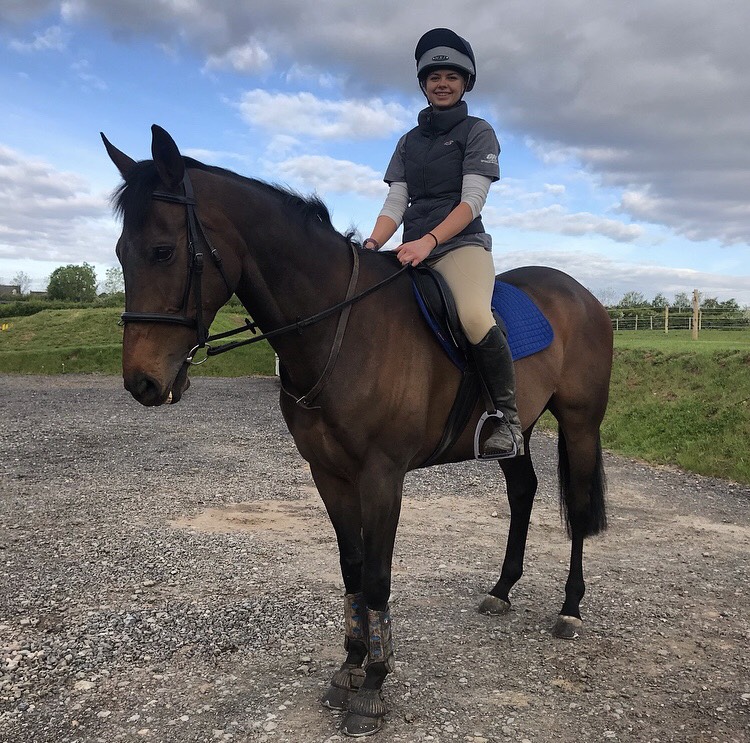 Involve
Involve only had the one season in training before we realised that it really was not meant to be for this petite gelding by Dansili.
Luckily there was a willing rider Lucy Ward who wanted to take him on and uncover his true potential. Involve is currently relishing in his retirement and only recently enjoyed his first horse trials at Aston le Walls.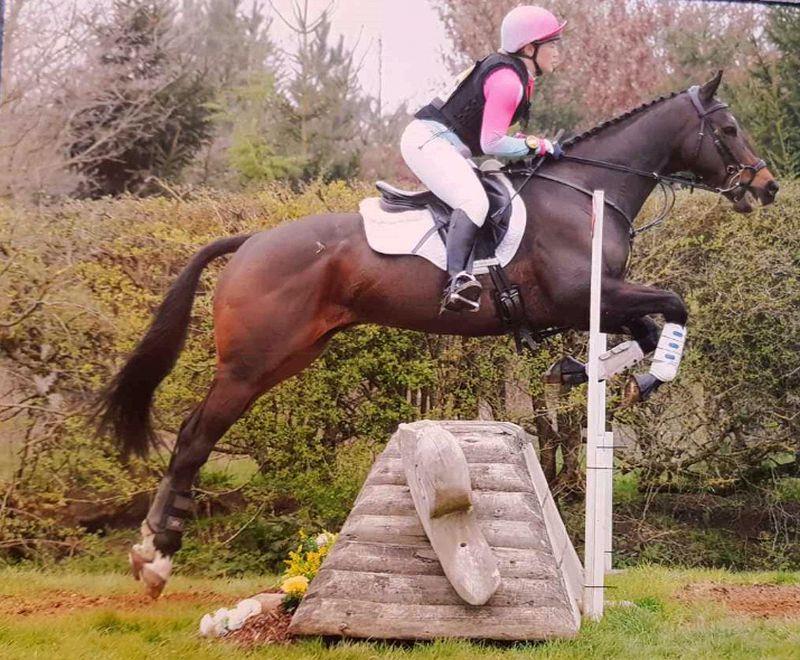 The Last Samuri
The Last Samuri was retired from racing in March 2019 following a great career spanning over 6 years.
The 11-year-old was initially trained in Wexford by Sean Doyle then by Donald McCain, before joining us, where he not only finished runner-up in the National but was placed in two runnings of the Becher Chase over the famous Aintree fences.
He earned more than £400,000 during his career, in which he won eight of his 27 starts, including the 2016 Grimthorpe Chase at Doncaster.
The Last Samuri ran in three Grand Nationals in all, but he was unable to match his second place, finishing 16th in 2017 and being pulled up last year.
He is now residing with Kim's daughter Pandora "The old boy deserves a great life after racing. He will never be forgotten here.. we loved him and he now has a fabulous new home where he will be treasured and loved forever..My daughter Pandora is thrilled to be having him in his retirement and will be doing ROR and other forms of discipline that these old boys love." - Kim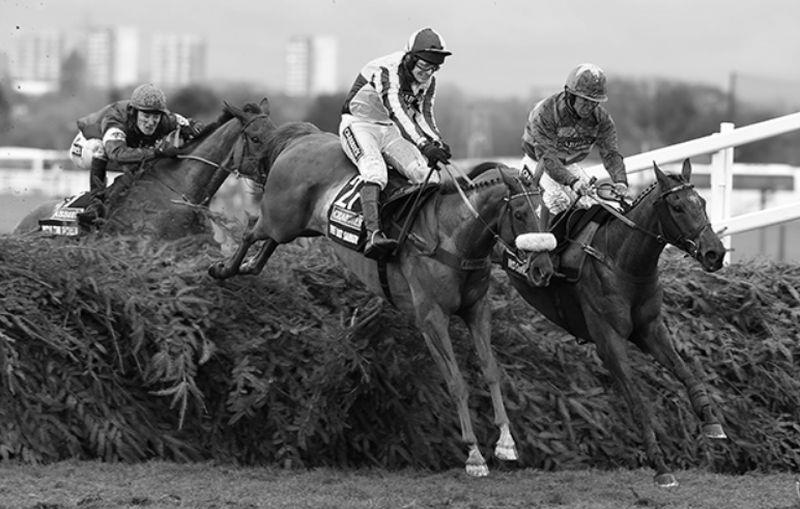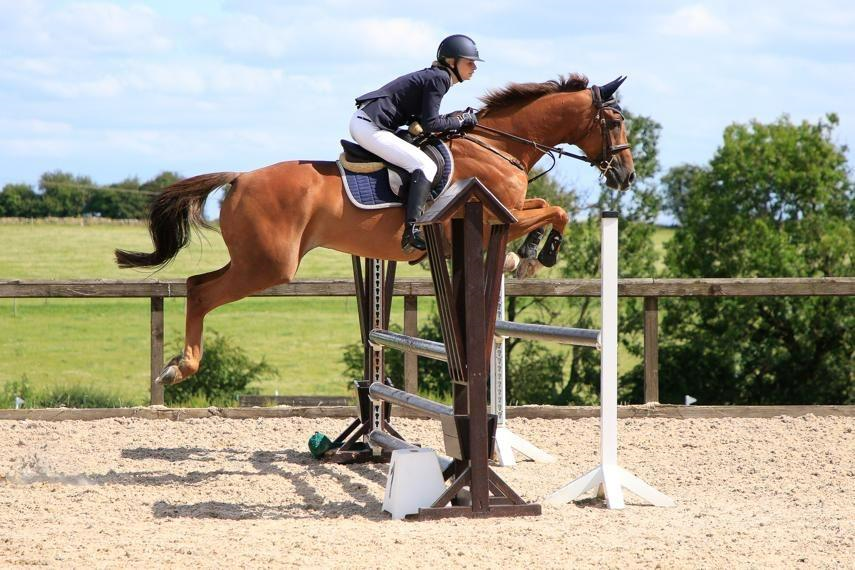 Net Work Rouge
Net Work Rouge was sold to Bart Beswick at The Ascot Sales last November for Andy Thomas Llewellyn to point to point. He finished a promising second first time out and went on to win decisively second time of asking, it's safe to say he is flourishing in his retirement.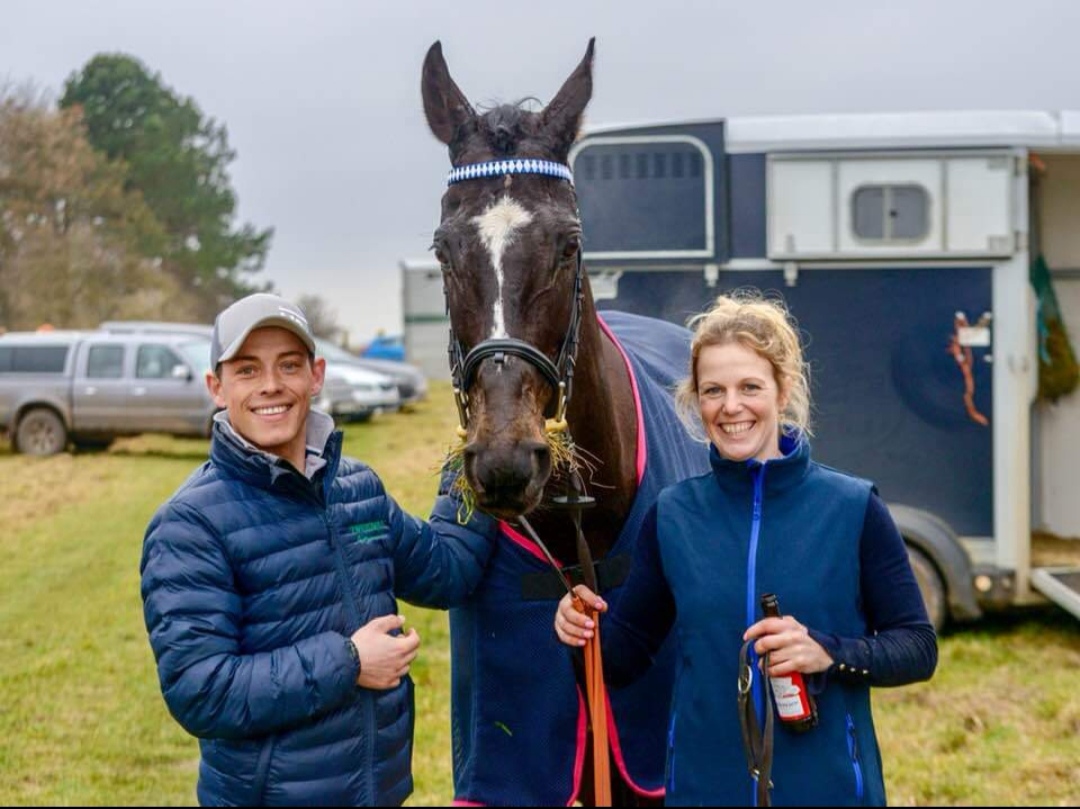 Jupiters Gift
Jupiters Gift retired from racing in July 2017 after a short racing career. She was sent to Mike Zurawski who took her to the Polo field where she has been very successful.
Jupiter's Gift has continued her education and surpassed all expectations. She's currently enjoying her winter holiday in the oxfordshire countryside after a busy summer season. She plays up to 6 goal polo at Kirtlington Park Polo Club, where she's loved by all for her personality and known for her talent which shines through even amongst the professionals' strings at the club. She has won some Best Playing Pony awards, and not had a single lame step ever!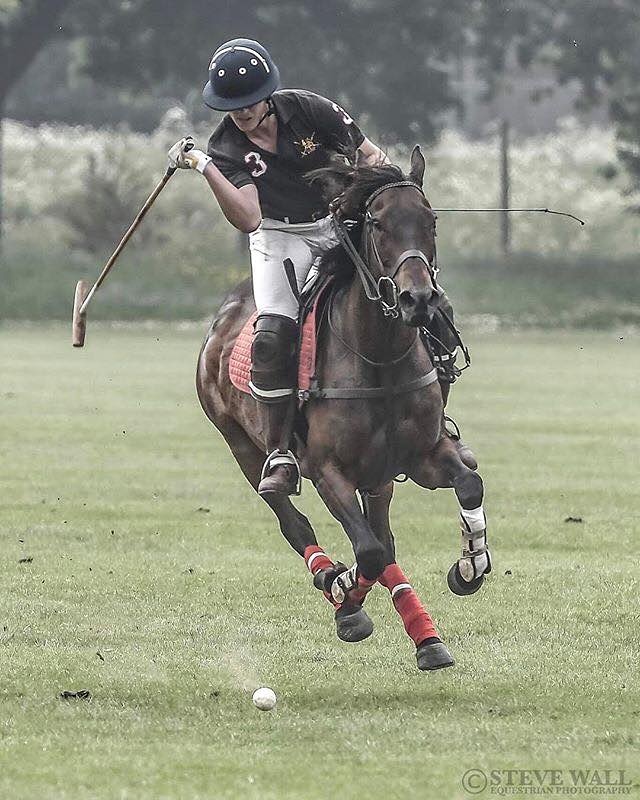 North Stack
North Stack now known as Amos/Mossy Moo has been enjoying his retirment with Lesley Shillito for the past six years. He has been competing and winning unaffiliated dressage and eventing.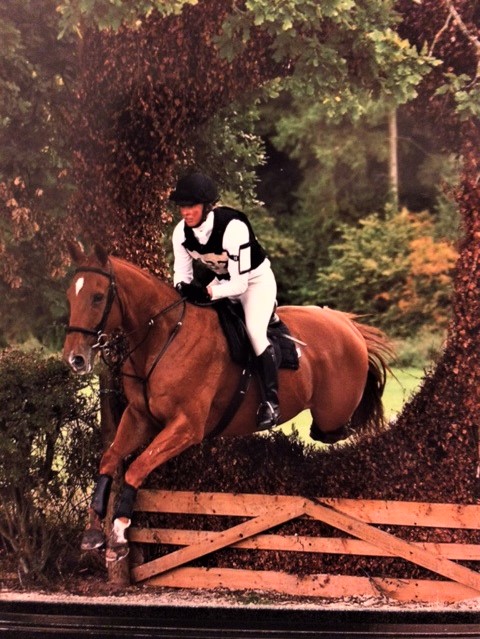 South Stack
South Stack (Amie) is enjoying his retirement with Charlie Lenton and has proven to be a real all rounder, competing in the show ring, winning ROR and Riding Horse classes, he has also been out in the dressage arena with fantastic scores. He is currently turning his hoof to showjumping and xc training so with a bit of luck he will be out eventing next year.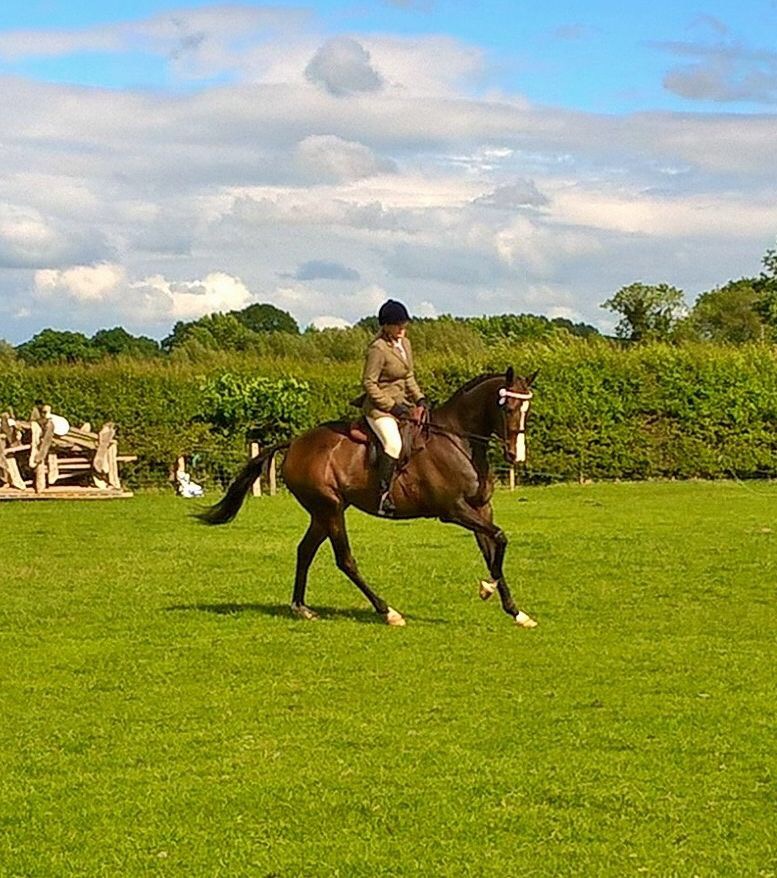 Darna
Darna was a star for his owners and his us and we retired on 4th May 2016. We bought Darna for Julie and David at The Newbury Doncaster Sales after winning two hurdle races for Willie Amos. Buying him brought Julie and David back into the yard as owners on the retirement of trainer Paul Dalton. Darna won 3 of his 5 races his first season for us and looked a chaser with a big future. Sadly he missed some time off the track due to a slight leg injury and while he was off we also tinkered with his wind. He came back and was impressive at Sedgefield and then of course he won at the Cheltenham Festival.. The owners and trainers dream came true.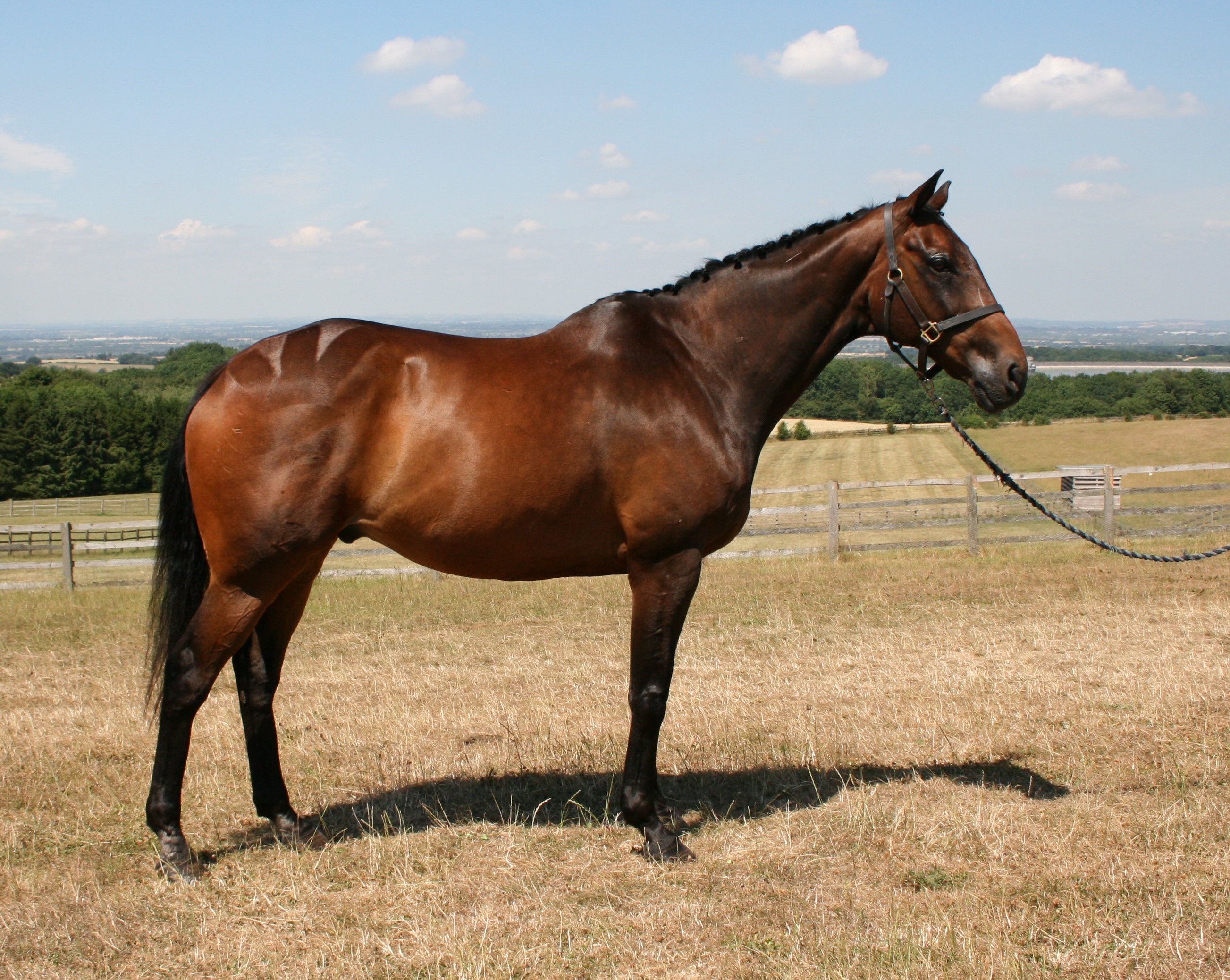 Russian Lad
Russian Lad has been with Frances Elms since retiring from racing in 2009. He has been enjoying his retirment in the field and taking part in fun rides and riding club activites. His latest challenge has been Dressage to Music which he seems to be enjoying.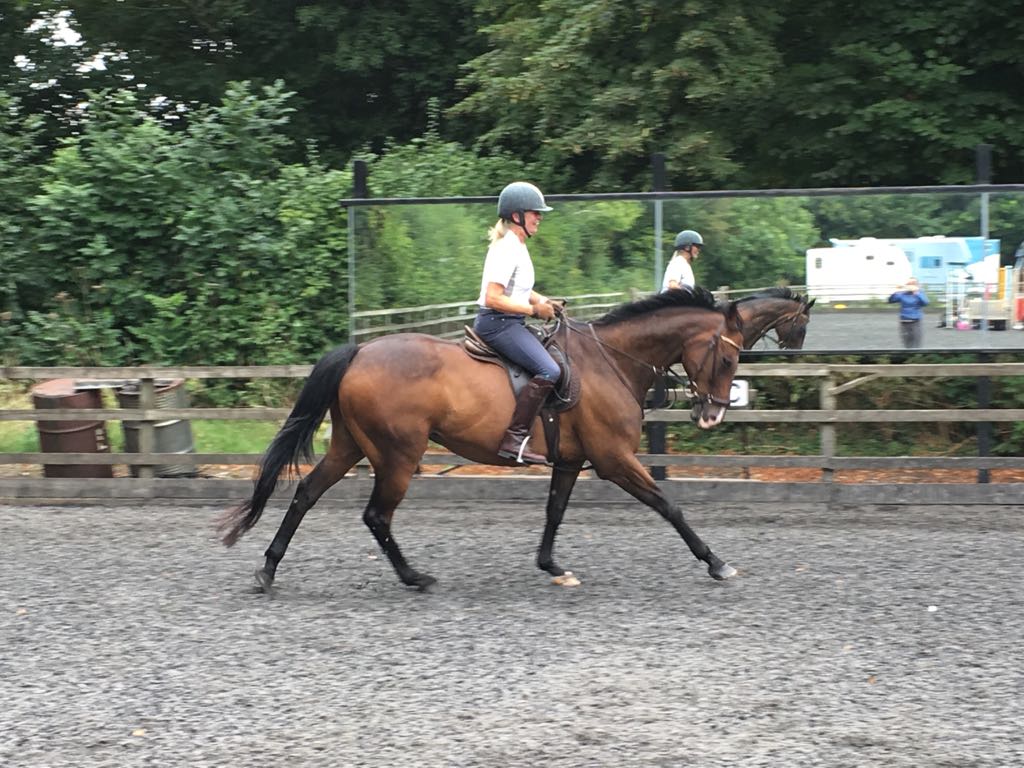 Sirius Chesnut
Sirius Chesnut ran his final race under rules on 19th April 2013. He has been with Katy Ferrari for just over 3 years now and competes at dressage. He has competed in the RoR National Championships at Aintree and went to the British Dressage Thoroughbred Championships last weekend and won the Novice Championship! We also went to the ROR Dressage Championships at Blenheim Palace last week and finished 7th; Sirius is currently excelling in his retirement.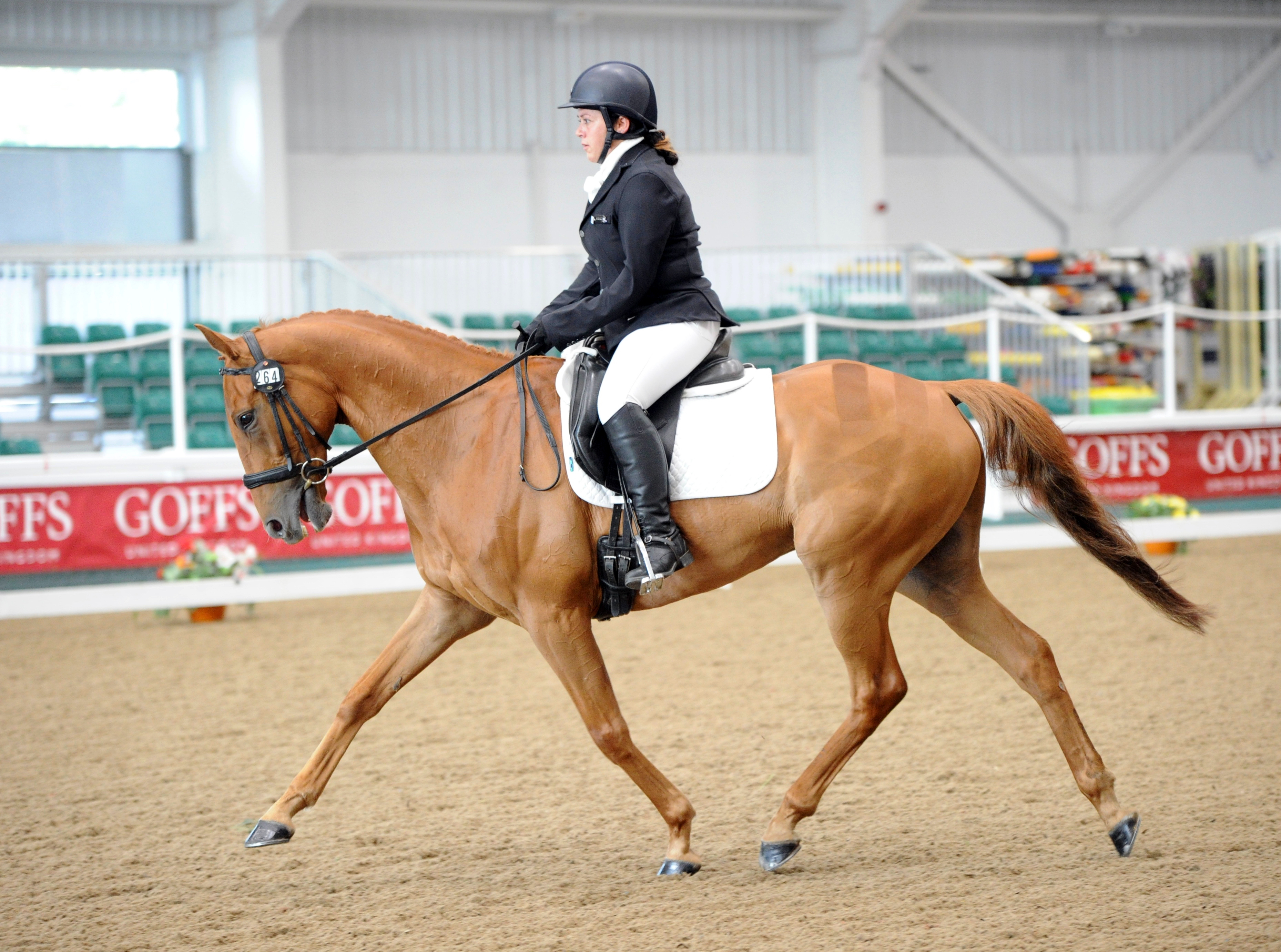 Rhianna
Rhianna was retired from racing on 23rd July 2016 followng an unsuccessful career in racing, she reallly did not take to it although she had plenty of scope.
Owner Norman Carter retired her to Lizzie Luxton in Devon to go point to point but once again she really didn't show any signs of enjoying herself, so in 2017 she was sent to try one day eventing which she really took to, winning an unaffiliated event, she was fantastic over the cross country.
Back in pre training this year she seemed to be suffering from a back problem and subsequently has had a reoccurrence of a check ligament injury she had last year. So it has been decided that Rhianna will now be turned out in a paddock until next year when a suitable stallion will be found for her and she will be put in foal.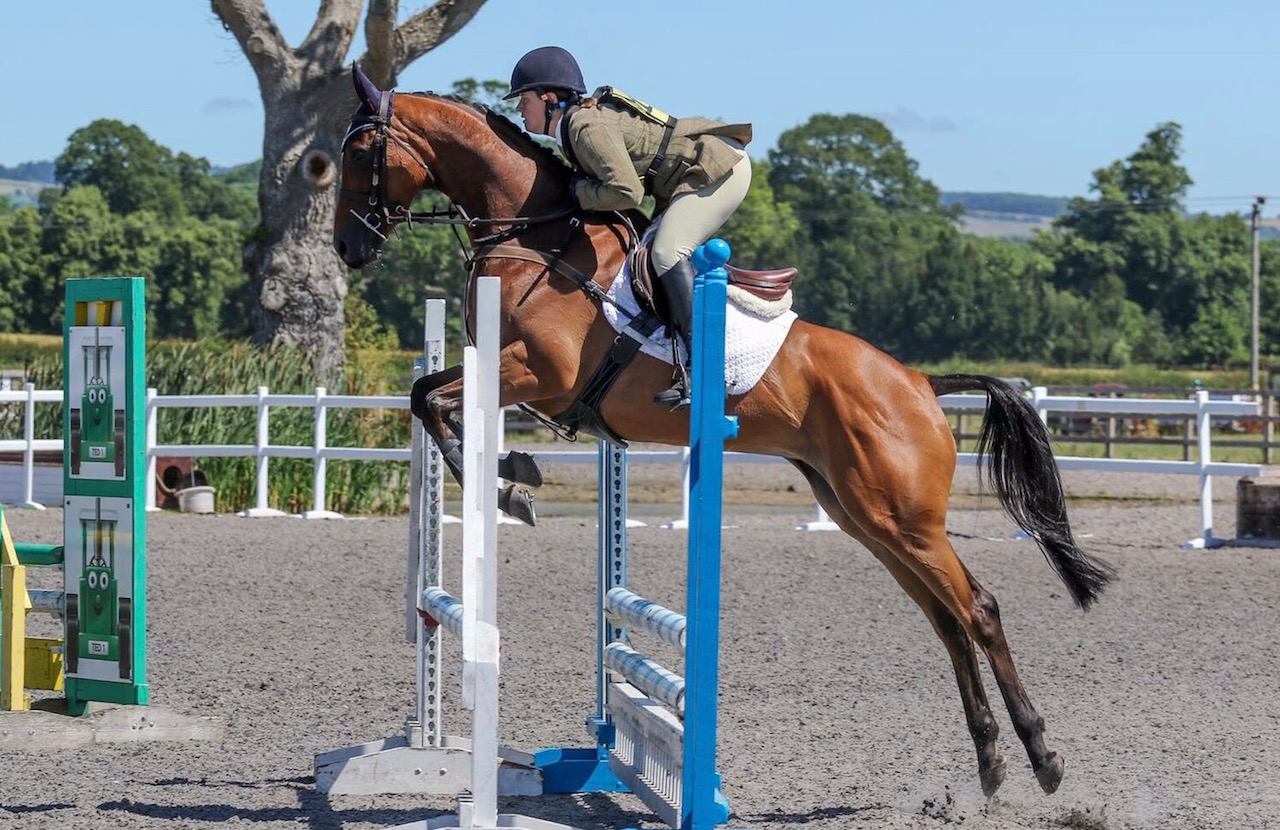 Milord
Milord ran his final race at Worcester on 11th June after an interesting career which started in Germany as a 2 year old which included a run in their Derby. A fourth at the Cheltenham Festival was probably his highlight, although winning was probably better. He raced in 47 races, five of which he won and accumulated a total of £37,512 prize money during a glittering seven year career.

Milord is now enjoying his retirement with Teresa Thurston who has been gradually introducing new experiences such as lunging, cross country schooling and a few cows! He has settled in very nicely and Teresa feels very lucky to have been given the chance with Milord. His latest role at the farm is shepherding where he is doing a great job as the sheep don't react to him as much as a dog.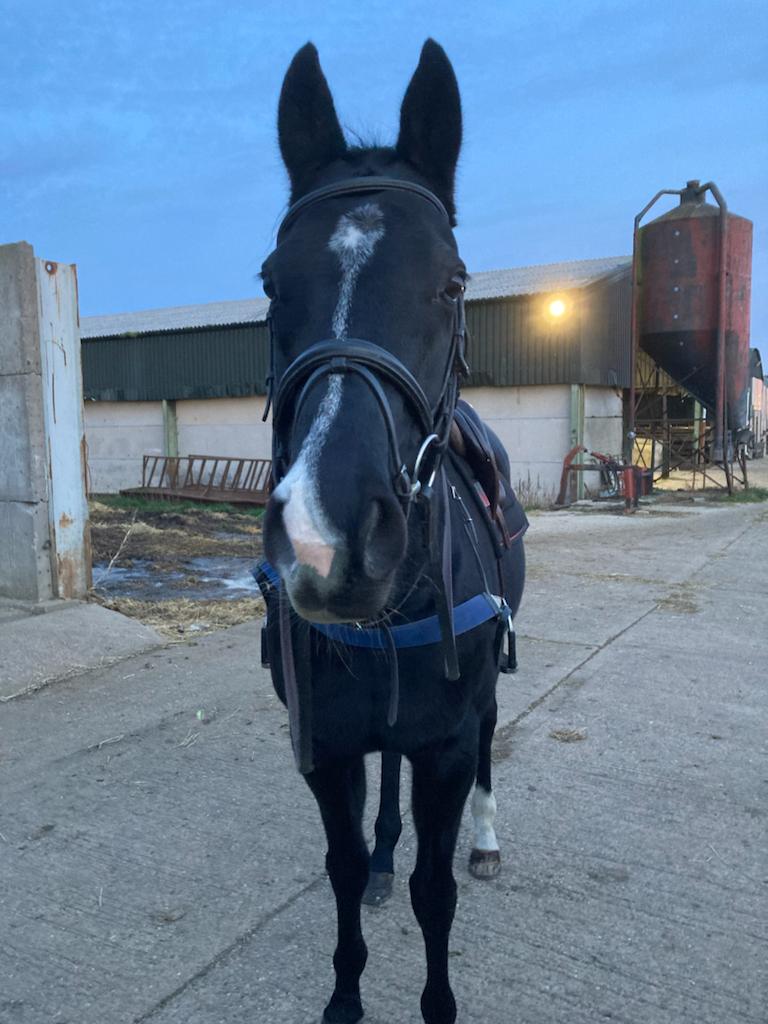 Forgotten Hero
Very much a family favourite for his owners David and Julie Martin who bought him originally with the view of running at The Cheltenham Festival. That quickly changed and they kept him flat racing with John Hills where he won four races and over £90,000 in prize money; he climbed to a highest rating of 97 on the flat. Forgotten Hero them came to me with the view of going hurdling and although he never won, he was narrowly beaten at York on two occasions, finishing second in competitive handicaps. We ran a couple of times over hurdles where he also finished second, but we felt after running a total of 40 times, he deserved a good and happy retirement which he now has.
Forgotten Hero is now enjoying his retirement with Laura White where he has been doing in hand showing, finishing second first time out. Laura is aiming to do a dressage test with him in the next two months and training for this is going well. They are both very happy together.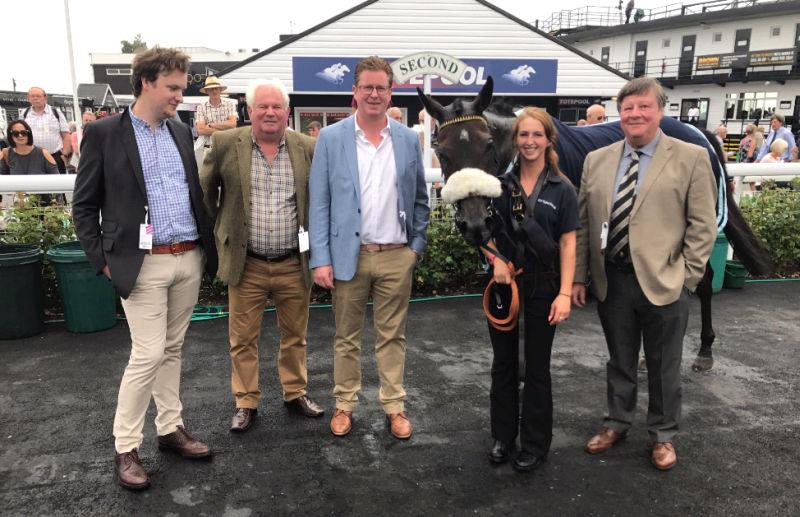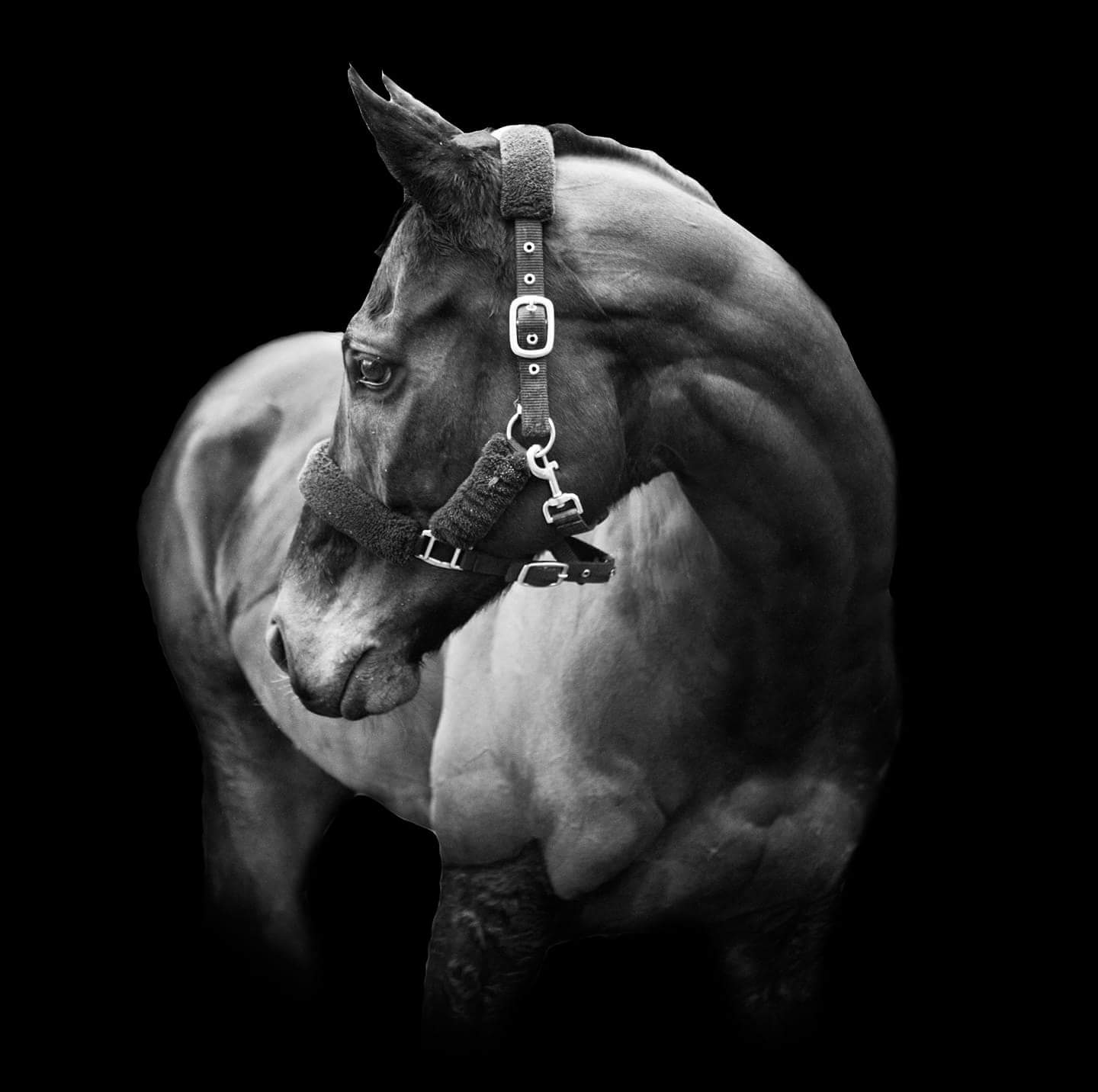 Un Ace
Un Ace was a horse we purchased after he won a bumper on the all-weather for Ben Case. He was an absolute gem to train and started his career with us by winning a novice hurdle at Doncaster and then went straight to The Cheltenham Festival where he ran an absolute blinder, finishing 11 lengths behind Vautour in the Supreme Novice Hurdle. His second season began with two wins over fences at Huntingdon and Doncaster where he then headed back to The Cheltenham Festival where he finished 13 lengths behind our own winner Darna, again another great days racing. Perhaps his best day racing and the day he will be most remebered for, was when he won the Waitrose Novice Handicap Chase at Ascot in March 2015 which was to be the last winner Tony McCoy ever rode at Ascot. So he finished his career in the record books!
Un Ace was retired from racing on 3rd May 2017 and is now residing with chiropractor Steph Targett. After enjoying a lovely summer holiday as Steph was expecting a child, Un Ace is now back in work and on the hunting field.