Racing Syndicates
I believe this is the most cost effective way to racehorse ownership. By joining one of my exclusive partnerships you can enjoy all the privileges of being a racehorse owner without incurring all the costs" Kim Bailey
If you have always wanted to own a well-bred quality racehorse with a top National Hunt yard, then purchasing a share in a Kim Bailey Racing Syndicate is the perfect way for you to fulfil your ownership dreams.
Owning your very own racehorse can be expensive, that is why Kim Bailey Racing Syndicates have been developed to allow enthusiastic owners an opportunity to be involved in very promising racehorses at a more affordable level. Another advantage of joining a partnership is being able to spread your risk. Rather than buying a horse outright you can purchase a number of shares in different horses giving you more opportunities to go racing and have winners!
Click here for more information on Racing Syndicates
For the latest syndicate horse with shares available please click here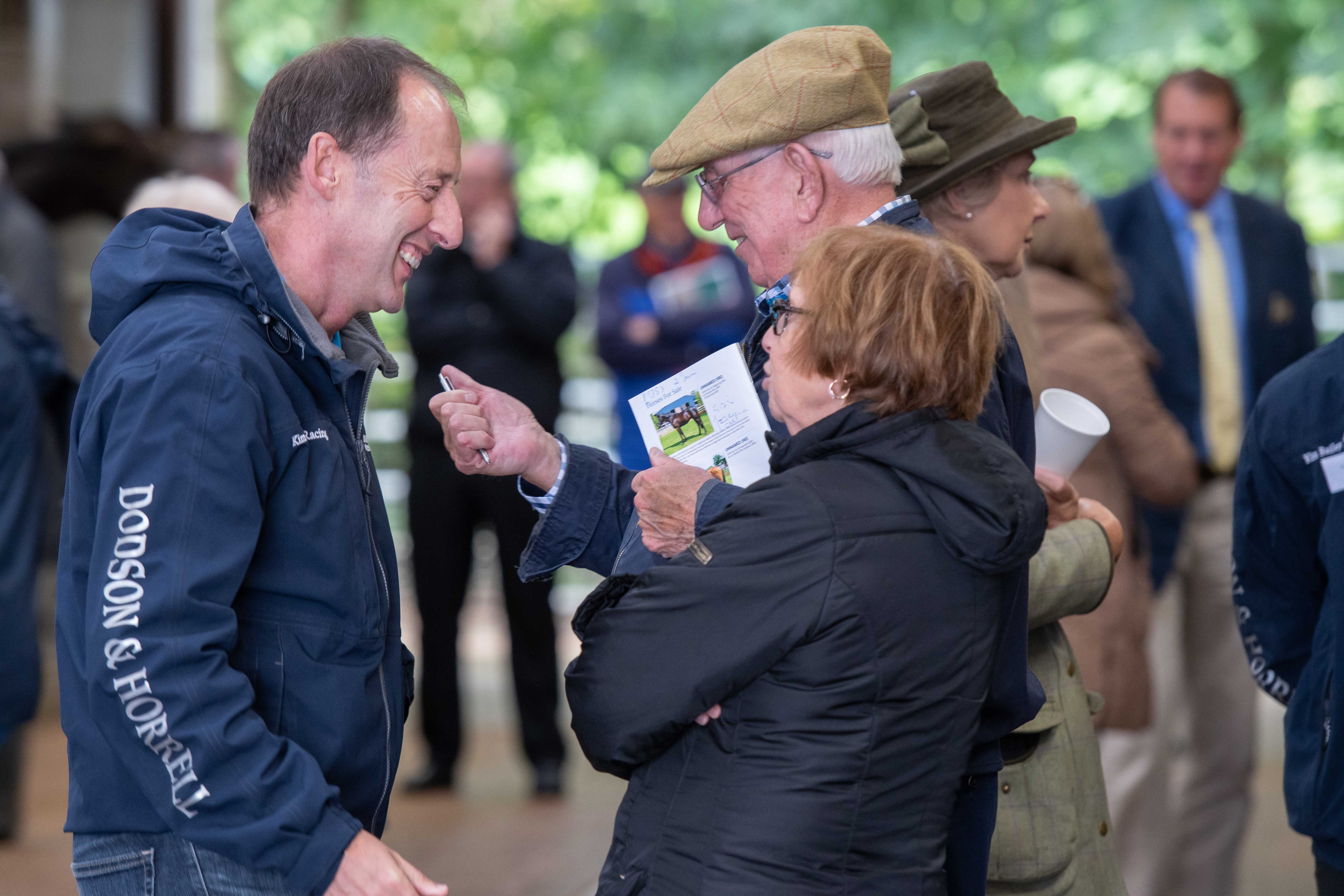 Peter Kerr - Syndicate Manager
I have been involved in syndicating racehorses for over 25 years and in that time I have successfully helped hundreds of people from all backgrounds achieve their dream of being a racehorse owner.
Having been an owner myself I understand the nervousness and apprehension you have when taking your first tentative steps into owning your very own racehorse. Many of my previous owners thought that racehorse ownership was an exclusive domain preserved for the rich and famous, this is not the case as there is now an opportunity for everyone to get involved with Kim Bailey Racing.
Thorndale farm is a wonderful place to train racehorses and I have been very impressed with both the set up and the dedicated staff. I hope I can match their professionalism in looking after you, keeping you informed on your horse's progress and making sure you have an enjoyable association with the stables.
Call Peter Kerr now on 07901 763643 to find out more about our latest available partnership horses.
Syndicate Testimonials
"I have been involved in other stables before but none match the friendliness, professionalism and excellent communications provided by Kim and the team at Thorndale Farm.

Irrespective of being a single owner, or a member of a partnership we are all treated equally thereby ensuring that everyone connected with horses in the yard experiences the same involvement, excitement and thrill of National Hunt Racing at a cost to meet your own specific budget.

My involvement in Thorndale has not only provided me with lots of precious racing memories, but has also given me the opportunity to make lasting and valued friendships with likeminded people, and would therefore recommend anyone considering getting involved in "jumps racing" to give Kim or Peter a ring and share the "Thorndale Experience" for yourself."

Vince Burmingham (Does He Know, Subway Surf, Hendra House)
"We just wanted to thank you for such an excellent day Saturday, Silver Kayf ran a blinder, he is a very exiting horse. The whole day could not have gone better, with the added bonus of the upper box, we have had such enjoyment since joining you at Kim's everything is run so well and we are always made so very welcome when we come to the stables, also we are so lucky that the others in the partnership are all super people we look forward to meeting up, thanks once again to all at Kim Bailey Racing."

Steve & Chris Adams (Galante de Romay)